My favorite skyscraper is a little obscure (like many of my favorite things). Today it's called the AIG building. When it was built, it was called the City Services Building or Sixty Wall Tower.
The soaring art deco tower was built for City Services Corporation, a company willed into being by one Henry L. Doherty. Doherty was a thoroughly Randian character. A self taught engineer, he started off by leaving school in 1882 at the tender age of 12 to go to work for a local gas company and went on to build one the biggest electric, oil and gas companies worth 1.3 billion in 1930. A technophile, Doherty traveled around the country in his personal train car with telephone and wireless equipment to keep in touch with his empire. Even his bed had phone connections, and electric fan, heating pads and electric motors that could move it through remote control swinging doors onto a porch of his penthouse apartment. He was a very good executive and salesman, but always took a title of Chief Engineer. He even applied for an official engineering license (as he didn't have any academic credentials). He did have 150 patents to his name and had many articles about oil refining and economy published.
The architectural firm of Clinton & Russel, Holton & George was given the task of designing City Services Building, but Doherty and his engineers had a hand in it too. The building's heating and air conditioning system was designed by City Services engineers, and Doherty himself suggested double-decker elevators, and terraces with aluminum railings. The building was planned as an embodiment of Doherty's vision.
The tower starts of as a chunky block wide "wedding cake". The reason for that is New York City zoning laws. NYC building had to have "setbacks" that would allow light to reach the ground. This was required so that the shadow of a skyscraper would not permanently block daylight on the street. But higher than a certain level you could build without setbacks though. And that's exactly what the architects did in this case: above the "wedding cake" is a tremendous tower.
The building is recursive: there are two columns shaped like it on it's sides.
When I was reading The Fountainhead", this is how I imagined the Dana Building. Coruscant City towers look very much like the City Services Building.
Doherty was planning to live in a penthouse apartment on top of the building. But his health gave out, and after spending some time in sanatoriums he died. Instead of the penthouse apartment an observation gallery was built.
City Services building also became the final masterpiece of it's architects, Clinton & Russel, Holton & George. No major work came their way after senior partners Clinton and Russel died, and then one of the junior partners, Holton died and George retired.
City Services Inc was hit hard by The Public Utility Holding Company Act of 1935: they were told that no company could sell or produce both oil and gas. They chose oil and became CITGO. The company moved it's headquarters to Tulsa selling City Services Building to AIG. AIG renovated the building, but closed off the lobby and the amazing observation deck to the public. Now the observation deck serves as an executive lounge. If you have some juice at AIG and could give me a tour… Well, that would make me happy. Well, it could happen.
Much of my information for this article came from a very good, but poorly organized book called Skyscraper Rivals. I could not find any books about Henry L. Doherty except a $350 "Principles and Ideas for Doherty Men", a compilation of his articles and letters.
Wegee was a big fan of City Services Building, a book "Weegee's People" chronicles the life inside the tower. When I get it, I'll write another article about the double decker elevators, the all-female redhead elevator operators and other marvels of the City Services Building.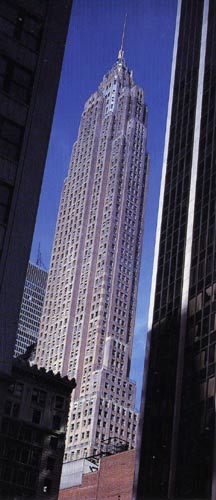 Henry L. Doherty and the City Services Building (from "Skyscraper Rivals")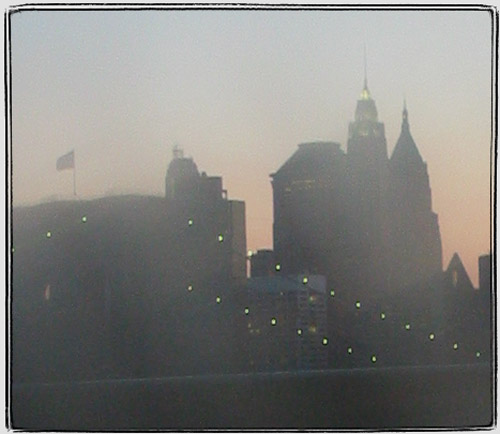 This is how I get to see the AIG building from a train window.

Coruscant City from Star Wars (image from http://www.wizards.com)