If the Seal of New York City were designed today, it would not have a sailor and a Native American on it. It would have a cab driver and a food cart vendor.
Cab driving and food vending wood seem like the two of the most democratic enterpreneurial options, the foundation of which is the public streets New York City: you just wheel out your vehicle and try to make some commerce happen. The only thing that you need is a license. The one for cab driving is called a "medallion", costs $766K, and as an investment vehicle outperformed just about any commodity and stock index. The food cart licesnses are also very expensive. Plus you are hounded by NYPD, Department of Sanitation, and who knows what else. Cab drivers and food cart vendors are some of the hardest working and most prosecuted businesmen in the city, but sometimes they have their own victories, big and small.
You don't need to go any further than the Metropolitain Museum of Art to see two interesting examples. Right in front of the museum there's a collection of food carts. They all are very typical carts, none of them are of the fancy variety. There are two types represented – the basic "dirty water hot dog" cars and "street meat" carts. But there's one important difference – they all have stickers that say "Disabled Veteran", and there's usually an actual veteran somewhere nearby.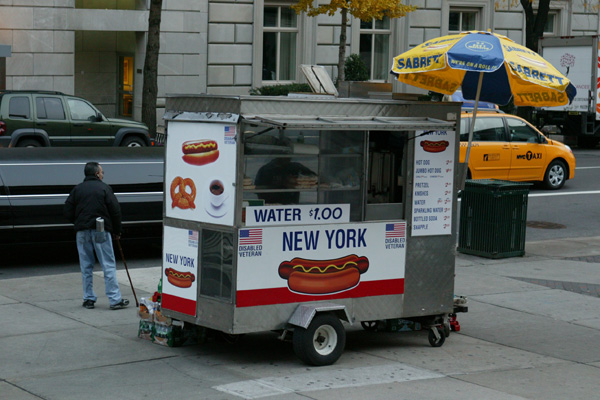 In the past years the space in front of the museum was either empty or occupied by one or two carts licensed by the Department of Parks. Then one day Dan Rossi, a disabled veteran, discovered a 19th century state law that allows disabled veterans to sell food in areas that are off-limits to others. The location in front of the museum is particularly lucrative because there are no affordable restaurants as far as an overweight tourist can walk. This hack is a small, but significant victory for food vendors. They are still ticketed mercelesly by NYPD, have to work crazy hours, and deal with the need to urinate in some kind of a miraculous way. At least they got an article in the New York Times written about them.
Across the road from the veteran's carts is a mansion that belongs to billionaire Tamir Sapir, a former cab driver.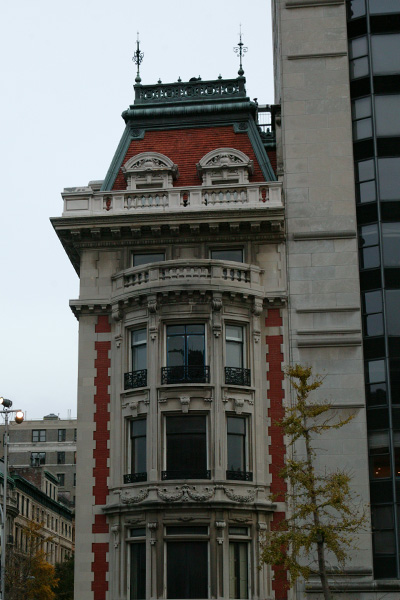 Mr. Sapir's legend starts in Georgia, USSR. He found an interesting niche business: filling out complicated emigration forms for the Soviet Jews. At some point he was persuaded by his mother to give up his excellent life (it was a very lucrative business, from what I understand) and emigrate to Israel himself. He found himself in the middle of the Yom Kippur War, and quickly emigrated to the United States. He worked hard to earn enough money to leave rural Kentucky for New York, and then even harder to buy a cab medallion (which was a lot more affordable in those days). Then he risked everything again by putting up that medallion as collateral for a loan that he needed to open up an electronics store with a partner.
In the 80s there was a bit of a thaw in Sovet-American relations – Perestroyka and whatnot. There was a significant amount of people visiting the US – diplomats, scientists, sailors, and those invited by relatives. These people were allowed to exchange a small sum of rubles into dollars at the official rate – if I remember correctly, 60-something kopeks to a dollar.
What these lucky tourists wanted the most was electronics. In particular – vcrs, doule deck cassette players, and Walkmen. They had the money to buy these things, but here's a problem: they needed 220 volt round plug devices, and more than that, VCRs needed to support the SECAM standard. You could not just walk into any store and find these: American market was all 110V and NTSC.
Every child in Odessa back then knew all of this, as well as that if you found yourself in New York City with some money, all you needed to do was trudge over to Timur's (this was before he changed his name) store in Manhattan and find 220V SECAM VCRs.
Mr. Sapir was making a mint, but more importantly he was making connections with the Soviet ministers, diplomats, and future oligarchs. A little later he was invited back to the USSR, and made more connections there. These connections allowed him to play on the Soviet deregulation arbitrage market.
You see, when the Soviet Union was transitioning to the market economy all prices were regulated except those for commidities like metals, oil, and fertilizer. Those with connections could buy these commodities for already devalued rubles and sell them abroad for hard currency, making millions of dollars. All you needed was connections, which Mr. Sapir had.
He made millions, but the game became very dangerous as people tougher than NYC cabbies entered it. Mr. Sapir did not continue his career as a commodity exporter. Instead he invested his millions into New York City skyscrapers. The real estate market bottomed out, and you could buy a whole skyscraper for 10 million dollars or so. He bought a whole bunch of them. The price of Manhattan real estate exploded, and he became a billionare.
He bought a mansion across from the Metropolitain Museum to house his collection of carved ivory (for some reason this was a very popular area of collecting in the Soviet Union), has a yacht that used to be stuffed with a collection of exotic animal taxidermy that could rival Mr. Burn's wardrobe or Amy's car from Futurama.
Well, the two lessons here are: 1) you have to take risks and 2) you have to find a niche. The rest is luck.