Sugar producers must be reeling from the effects of low carbohydrate diets: how else you'd explained this shining example of sugar marketing that I found recently in my hotel room?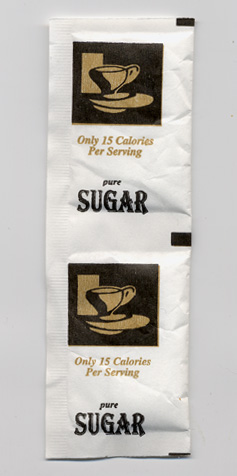 That's right – only 15 calories per serving! It's a diet food!
I found another example of sugar marketing innovation in a grocery store where I shop – Dominos Sugar seems to have a wide variety of exotic sugar products, like Organic Sugar, Brownulated® Sugar (a perfectly cromulent word for high-tech brown sugar) and these ultracool sugar stick packets that upon closer examination turned out to be even more exotic: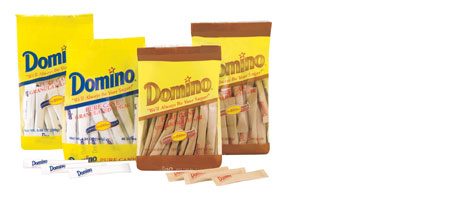 "Available in two varieties: pure cane granulated and Demerara – a golden brown crunchy sugar grown and harvested on the island of Mauritius, off the African Coast."
Ahhh, that set off a whole bunch of childhood memories for me. First of all, growing up in the Soviet Union where most sugar was made out of beets, upon reading about cane sugar in Mayne Reid's books I thought it to be something super exotic, like the books themselves. Because of that I always associated it with America and adventure, and found the common explanation that cane sugar tasted exactly like beet sugar, except a bit less sweet, (which is indeed the cast) inadequate.
Mayne Reid, by the way is one of that breed of writers that are extremely obscure in America, but famous in the former USSR. There Reid was considered to be on par with Jack London, just like Robert Sheckley enjoys popularity equal to that of Ray Bradbury. I mean, come on, Sheckly basically invented the concept of reality television, but this seems like a topic for a whole different post.
Back to our exotic sugar. "Grown and harvested on the island of Mauritius", huh? Generally horribly ignorant of geography I immediately recognized the isle of Mauritius as the location that produced two of the most famous rare stamps known as "Post Office Mauritius" stamps.

The highly romantisized story goes something like this: the governor of the tiny British colony wanted to issue some of those newly invented "postal stamp" thingies and ordered a batch from local engraver Joseph Osmond Barnard. The engraver allegedly forgot what copy needed to go on the left side of the stamp and went looking for the postmaster. When he was approaching the post office, he suddenly remembered – "Post Office", went back and put that on the stamp. The postmaster was massively pissed off – it should have said "Postage Paid". Most of the stamps from the "error" batch went onto the governor's wife's fancy dinner invitations.
There is a lot of controversy (read further down) weather "Post Office" was actually a mistake, but mistake or not, the story captured collectors' imaginations and the invitation envelopes sell in multimillion dollar range today.
The postmaster of nearby Mauritius used handstamps to "cancel" postage, but back in those days stamps were sometimes "cancelled" by hand, with a strike of a pen or sometimes with a signature. For instance, the postmaster of nearby colony of British Guiana placed his autograph on every single stamp along with a stamped "cancel".
His autograph on the famous "Penny Magenta" was sold for just under 1 million dollars in the nineties. What makes the story more interesting is that the original owner, Vernon Vaughan, 12, of Demerara (aha!), British Guiana sold the ugly, dirty stamp that had its corners clipped by somebody probably out of boredom, for an equivalent of a couple of bucks to a stamp dealer.
I remember reading about the last sale in the philatelist magazine and wondering who the anonymous buyer was. Only now I learned that it was the crazy du Pont heir that was convicted of killing an Olympic wrestler.
In this age of book superstores and computer processed mail, recently I was pleasantly surprised to see a real pen "cancel" on an USPS parcel containing shipment of books from a small bookshop. Maybe there is no automatic sorting machine at that remote little town and the postmaster could not locate a handstamp :)