I am a big fan of a NBC's failed TV show "The Restaurant". If you remember, in the promotional clip Rocco says that 90% of restaurants fail in the first year. The author of this article claims that "the ridiculous myth about excessive restaurant failure rates is once again perpetuated and moves from industry scuttlebutt to everyday knowledge." I don't know the numbers seem about right to me – Rocco's is out of business, right? I am just glad that I actually managed to go there once, eat lukewarm Italian food and have my picture taken with Rocco's Mama.
So, what happens with all the cups, plates and flatware from all the failed restaurants? Well, partially it's bought by resellers, such as a wonderful little store located right at the beginning of Silicon Alley in Manhattan. It's called Fishs Eddy and it sells a wide array of used commercial plates and flatware. For instance, have you ever wanted to steal a nice fork from an airplane? Well, Fishs Eddy sells airline flatware.
They also sell some one of a kind items that seem to be specifically manufactured as novelties. Take these "Heroes of the Torah" tumblers: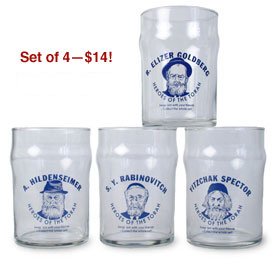 They seem to be made as a follow-up to a movie called Keeping the Faith, a story about a priest and a rabbi who traded "Heroes of the Torah" trading cards when they were children.
There are of course no "Hero of the Torah" trading cards. That's right, in real world they are called "Torah Personalities" cards. These were made in the late eighties-early nineties, and might still be manufactured. I dug up an image on eBay: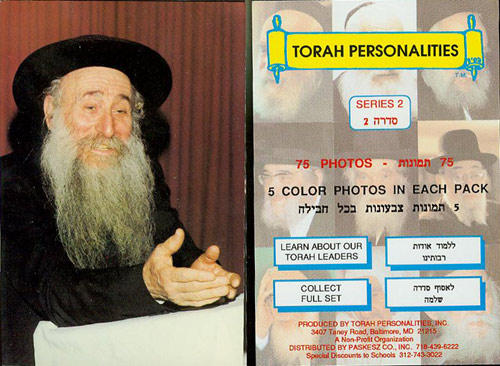 There's also a version called "Torah Link" that is available from torahtots.com.