Robert Scoble is the most powerful Microsoft blogger. One word from him and hordes of bloggers start typing gibberish, hoping to make it into the A-list. Must there be anything he can't do? Yep. Apparently there is a building at the Microsoft campus where his badge does not work.
That top secret facility produces the best Microsofts products I've ever seen. They make (amongst other things) short movies shown to attendees at shows like PDC and CES. Sadly, once shown, those movies do not make it onto Microsoft's website or into the bundles of MSDN subscription cds (I've checked). They get suppressed for some reason.
I believe there's a conspiracy to hide the fact that Bill Gates and Steve Ballmer left the company a long time ago. I mean think about it, would you continue to work if you had that kind of money? My theory is that they were replaced by two top notch actors. The actors must get bored from time to time, so they are given a high quality production crew and a possibility to create short movies from time to time.
I can't find the link now, but IMDB listed Steve Ballmer cast as a possible villain in Batman: Year One movie that never got filmed.
In any case, the convention shown movies sometimes leak out. Matrix spoof, the latest one, for instance is partially available at this website (if you scroll down there are screenshots from the full version). In it Linux agents are interrogating hacker known as Steve-O.
In previous years there was the Volkswagen commercial spoof, where Gates and Ballmer are cruising around the neighbourhood in a Jetta, pick up a discarded Sun server from the curb, but then, after a few blocks and a few whiffs of something stinky inside the server, they deposit it back on the side of the road. I saw that one at a PDC event, and it was preceded by a never aired IBM commercial in which Mike the Lawyer and friends are cramming a huge server in a small elevator.
There were also the Napoleon Dynamite spoof and the Austin Powers spoof which I can't find anywhere for some reason. Are there any others that I'm missing?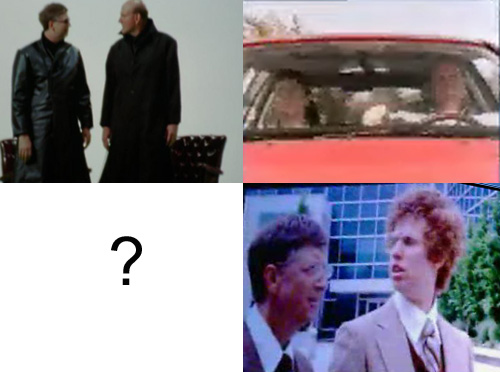 By the way, impersonating Austin Powers seems to be a favorite pastime of gazillionairs.