Donald Trump really takes care of the details. The man and the brand – they are inseparable. Here's what he's writing in his blog:
"If I were to put "Trump" on everything that came my way – from potato chips to paper clips – the power of my name would be diluted. I'm very demanding and selective about where that name goes. And I always try to make sure the letters are in gold.
I was at the Trump Tower recently – I came in to use the bathroom, as he keeps one of the cleanest public bathrooms in the city (I wrote about it in Crouching Tourist, Hidden Bathroom). I felt kind of guilty about mooching of the Donald, so I decided to buy one of the mugs (sold in a little stand near the bathrooms).
Upon examining it at home, I realized that my dreams of drinking latte out of a snazzy mug with Trump's "family crest" were shattered. Here's what I found at the bottom: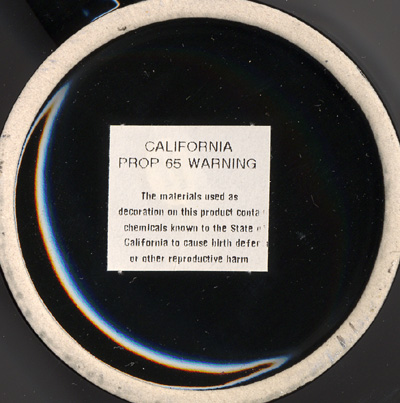 By the way, if I were Trump, I would kick out Starbucks out of the Tower and invite Joe The Art of Coffee.