I started this blog in May of 2002. I got my first digital camera around this time as well. So, it's time to look back at my 3 years of blogging and 3 years of digital photography.
My mostly backed up (is yours?) photo folder holds about 27 gigabytes of photos, which translates into about 16,500 files (I use Picasa to organize them and a usb drive for backup). That's about 458 rolls of 36 exposure film. At 5-6 bucks a pop for film and then a couple of bucks for processing that's a lot of mon-ay. Of course I print a lot less and mostly show pictures in the blog, but still this is a huge economy.
In three years of blogging I wrote 824 posts containing 117,274 words. Considering an average of half an hour per post that's about 50 eight hour work days. That is a lot of time, people. Considering that I do not write posts at work, this is a very sizable chunk of my free time. I could have written a book in this amount of time.
According to Feedburner my current readership is puny. 47 (a special number, isn't it?) livejournal readers, 8 from Bloglines, and a couple of others, some of which are probably bots. When I hosted my site in Livejournal it seemed like I had about 250 readers, but as it turned out most of those were just "you added me, I added you" kind of deals. Even then I was far behind Ripley the Cat (and I find it very hard to get over this fact).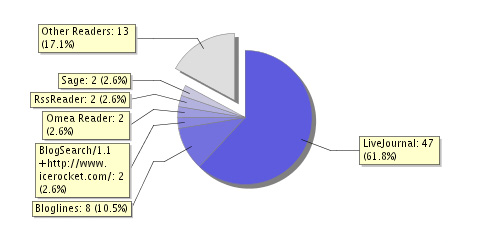 So, sob story about the number of readers aside, now I am a member of the elite group of bloggers who have been doing this for 3 years. How elite, you might ask? Let's ask Mighty Google. Here is a graph of how many results come back to "x year(s) of blogging", where x is "one", "two", "three", etc. This, of course has just a slight correlation with the number of years people have been blogging, as "hundred years of blogging" brings back three results.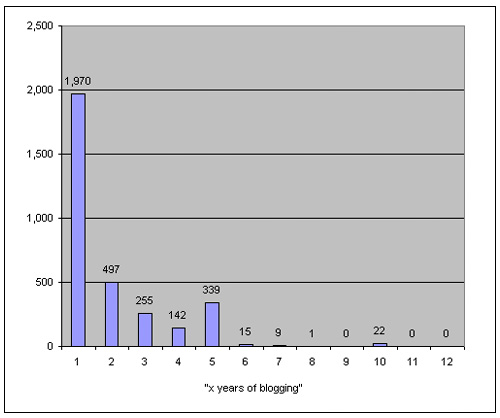 My website that hit the Information Superhighway back in 1996. It helped my future wife find me and gave me some rudimentary skills for my first web job. The blog hasn't been so useful or popular, it seems. Maybe back then there was less good content on the web, and now there are shite waterfalls of it. Or maybe I need do something to market it. Like asking my staunch 47 + 8 + x readers to link to their favorite post or two (all of the old posts are searchable from http://www.deadprogrammer.com). Right?