Today I am going to explore the geek/NYPD cop connection. Let's see:
Geeks have Dockers Mobile Pant. I am not sure why Dockers marketing people all of a sudden decided to use the singular form of the word, but I guess they wanted to play on the connotation of "panting". "Mobile Pant(s)" are dorky and ugly khaki pants that somewhat lessen the bulges from cellphones and pdas. I used to own a pair, and can't say that I liked it much.
NYPD has "Patrol Tactical Pants". Most New York newspapers ran gushing stories about NYPD being oh so very fashionable with the introduction of these pants. You can still find regurgitated bits of those stories over at Gothamist blog.
Moving on. Geeks have their Darth Vader lightsaber replicas. You can purchase a a cool plasma one with crazy effects or in a true Jedi manner build one out of a Heiland photo flashgun, just like the real thing.
Traffic cops started to appear with red led lit batons – mmmm, dark side color :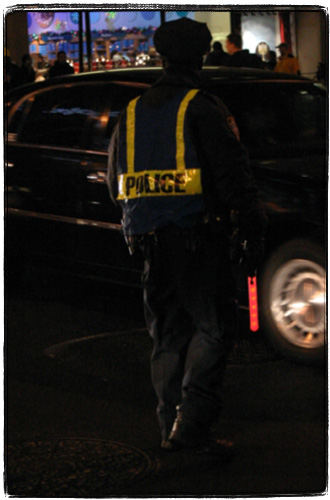 You can purchase your own pair of "Patrol Tactical Pants" over at Galls. They also have duty jackets (these are perfect for fishing), buckle less belts (these just look neat) and gloves.
Police gloves are cheaper, look and fit better than most good quality civilian gloves. I always hated wearing gloves because taking them off when I need to pay for something, use a camera or a phone. Some police gloves are made so that you can pick up a small coin in them easily. Just look at these: "enhanced tactical sensation", cut resistance and "Water-resistant kangaroo leather palms"? Can you say the perfect winter fishing glove?
They also have more esoteric equipment:
Cold Water Immersion Suit – for NYC sewer diving

Rhino® 14″ Wheel Immobilizer – for that dumbass whose car alarm wasn't letting you sleep all night

Holding Cell and Holding Cell Bench (perps sold separately) : as a gift for everybody's favorite night club owner