Advertising might be the engine of commerce, but there is a surprising number of NYC businesses are hidden inside skyscrapers with almost no indication of them on the outside.
For instance, me and my co-workers often go to a Starbucks that is located in a lobby of a skyscraper. There is no sign outside, and inside you need to pass a security guy (who surprisingly lets you through) and turn a corner. I could not believe my eyes – you absolutely had to know where that Starbucks was.
There is nothing special about our hidden Starbucks, except it is the closest one to us and the lines are usually shorter. They do have an old style La Marzocco machine not yet replaced by the new superautomatics, but the barrista has no idea about how to grind the coffee and tamp it properly. I guess they don't teach that anymore at Starbucks U.
There is a more interesting hidden place that we frequent. It's a restaurant called Taam-Tov (46 West 47th Street, 4th floor 212-768-8001) which happens to be located on the fourth floor of a dumpy and decrepit art deco building in the middle of the Jewelry district on 47th street. To be fair I have to mention that there is a little sign on the step of a staircase that can be seen from outside. But you have to climb 8 flights of stairs, past dirty walls, an exposed phone comm. box and frequent full trash bags. There you will see an unmarked closed door and a small open order window.
Alternatively you can enter a jewelry store on the first floor and take a tiny little elevator, which will deposit you inside the restaurant. I strongly discourage you from using it.
Once me and three of my co-workers, one of whom is "portlier" than I am (and I am pretty "portly" myself), two have asthma and only one inhaler, despite my reluctance chose to take that tiny elevator. We let a bunch of people go up before us, waited for the elevator to come back and boarded it. Immediately what seemed to me like three shady looking Russian jewelers squeezed in after us. To my horror I noticed that in fact there was a fourth guy with them, just as sweaty and unshaven, but really short and skinny. Of course we got stuck between the floors and it took me and one of the jewelers few very uncomfortable minutes to figure out how to open the doors. Oh, and I forgot to mention – the co-worker who insisted the most on the elevator was not only slightly asthmatic, but a bit claustrophobic as well.
Anyway, the place is rather unique. The patrons are mostly jewelers – you might see them exchanging large sums of money and gold or diamonds, but there are a lot of programmers from surrounding offices who also found that place somewhere. Since the place was featured in the last issue of Time Out New York dedicated to cheapest restaurants, there the mix will be a bit more eclectic in the future.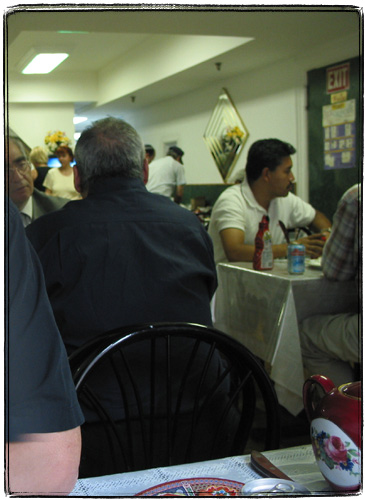 The cuisine can be described as Middle Eastern/Russian, typical of the Baku region. Everything is cooked on site (in fact I've witnessed a small kitchen fire once that was quickly taken under control while everyone continued eating), kosher and very tasty. Shish kabobs are excellent (my favorite is rib kabob), so are soups. Just don't ask for sour cream for your Borscht – and you can be sure that they don't use Ukrainian pork fat. Other than that it's very good. There are good salads, golubtsi, pelmeni, shawarma, etc. They even have kompot – Russian fruit punch and green tea served in small "piala" cups with sugar cubes (for drinking "vprikusku").
Over the years I had lunch at Taam Tov with my boss, my boss' bosses there, my co-workers, three different livejournal users and many other people. And until I've read Time Out New York article I did not know that one floor below Taam Tov there's a second hole in the wall restaurant called Sabor Latino.