One of the most annoying things about New York and many other American cities is the lack of pubic bathrooms. There are no paid privately ran WCs like in Europe, so tourists mostly rely on McDonalds and Starbucks stores for bathroomage (if it's not a word, we have the technology to make it one).
There are a few other esoteric choices like subway bathrooms – despite the popular wisdom that there are none, most terminal stations and big hubs have open bathrooms, which are scary and extremely dirty, but are sometimes functioning. In all of my years in NYC I wasn't brave enough to actually use one. I have seen a few experimental high tech bathrooms, sort of 24th century port-o-johns around the city. The one that I used once had a five minute time limit after which the doors opened and the floor was automatically cleaned.
But if you are to experience the NYC's ultimate hidden, but public bathroom, you need to visit the Trump Tower (725 Fifth Avenue at 56th Street ). There is a doorman next to a set of doors that you can see swung open when an unlucky Apprentice is being expelled, but it's not going to open for you. You need to enter through revolving doors reserved for regular shmoes. But inside you'll find a huge pink marble lobby housing a public mall, complete with a multistoried lighted waterfall, Starbucks, Tower Records, a small booth hawking "You are fired" t-shirs and mugs, a bunch of luxury stores, a deli counter and – you guessed it – one of New York's best public restrooms.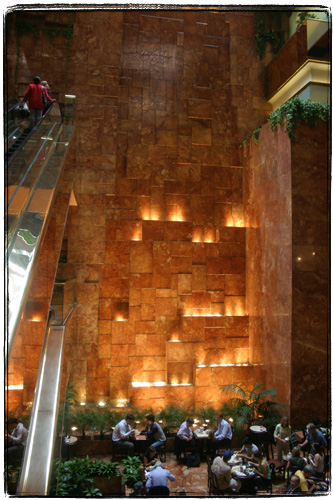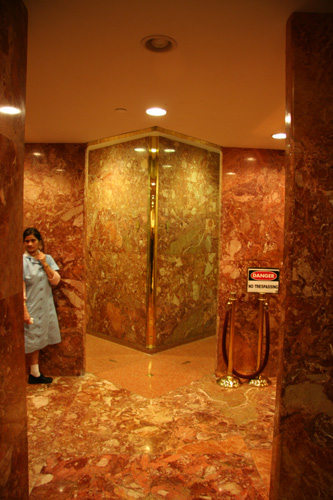 Almost everything in the building is adorned with a "T" or with Turmp's "family crest". I was expected to see it on trashcans and urinals, but I guess The Donald did not want to go that far with branding. Men's bathroom has grey marble surfaces and is well maintained. I expected it to be more lavish, but it is still better than the rest.