There's one piece of Americana that I do not like. Lawns. Suburban grass lawns. Keeping a good looking lawn is difficult and expensive. The amount of watering and cutting and fertilizing is mind boggling, considering that you are simply growing grass. Lawns do have a nice, neat appearance, but in my opinion they are way too sterile.
Of course, I am not alone in lawn-hating. Various hippies are also unhappy with vast water-hogging expenses of grass they can't smoke. They propose various solutions, such as replacing grass with clover, wild flowers, etc. I actually very like one solution I've seen somewhere (can't find the link) – they've replaced the lawn with a vegetable garden. It's not as neat and sterile, but still green most of the year. And you get your own organic berries and vegetables.
Oh, and I got to mention this, my wife always liked this black grass (Ophiopogon planiscapus, I think) that grown across from the waterlily pond in Brooklyn Botanical. Now, that would make one nice gothy lawn.
In any case, my McMansion-owning friends can have their humongous lawns and tractor lawnmowers. Living in an apartment, all I can operate with is a windowsill.
Speaking about windowsills. I grew up in a very old apartment in Odessa, Ukraine. The windowsills there were huge – you could sleep on those things. Some of the newer houses in America don't even have windowsills – they have picture frame moulding around them. The older, Art Deco era apartment where I live now has decently sized windowsills. They are big enough for a couple of cats to sleep on.
In any case, there's a lot of super cool stuff you can grow on your windowsill. I, for one have a couple of real pineapple plants.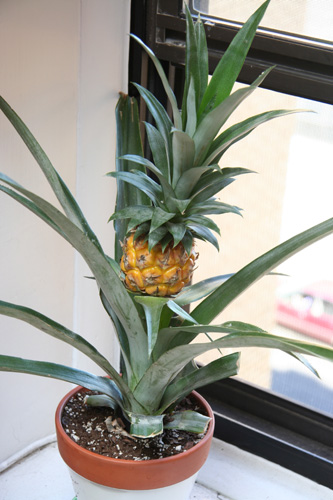 For the longest time I thought that pineapples grew on palm trees, like bananas and coconuts. Well, I just found out that bananas also don't grow on palm trees and are technically herbs. Live and learn.
Anyway, pineapples grow low on the ground, kind of like corn. The first pineapple plant that I grew on my windowsill I got from Brooklyn Botanical Garden gift shop. It already had the small fruit and cost me about $30 bucks. That was years ago. It has proven to be amazingly resilient – I generally have a brown thumb, and frequently forgot to water it. It survived a cold New York winter, and finally I ended up eating the slightly bigger pineapple. It was small, but very pineapply.
The plant that you see in the picture is one of the two that I picked up from Ikea in Elizabeth, NJ. They set me back only 20 bucks, together. Thank you, Ingvar.
I bet there are other cool plants that I could grow. Various dwarf citrus plants – lemons, oranges, kumquats, etc. Coffee tree. Maybe even a dwarf banana. The trick, of course if finding plants that already have fruit on them (if you know a good supplier, please let me know) – growing something from a seed is a huge pain in the ass.