I recently received an email from a reader who wanted advice about seeking a Russian bride. I decided to post my snarky, although relatively detailed reply here. After I sent the email, I realized that there's a book on the subject
that according to one review is "simply 'excellent'. It is factual without being offensive. It's helpful without being overbearing. It is instructive without being condescending." I don't think I managed any of these feats, but here's what I wrote:
Ancient Odessa, coin, erotic scene. II-III century BC.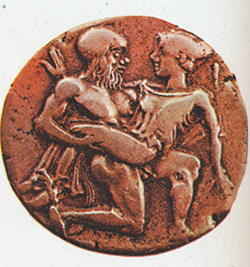 Hey, ….. .
Your potential mailorder bride is most likely a scammer. I am about to give you and those like you some advice, which might turn out useful to some and entertaining to others (I plan on posting my reply on my blog).
Seeking a foreign bride is not a simple, risk free, or casual process. It is not impossible though: one of my female friends married an Australian, another a Briton. These two pairs are extremely happy together.
You claim that you are having problems finding a "normal chick to settle down with." I think I know what you mean by that, but I am not sure that you do. In my interpretation you blame your inability to find a mate on the quality of the pool of potential dates available to you.
By definition, "normal" means standard, usual, average. Since the majority is never "not normal" (unless you are in a psychiatric institution), there must be another explanation. It's probably a combination of your high standards in selecting a mate (model looks, high paying job, domestic excellence) and your lack of same qualities. In short you are looking for a girl out of your league.
So here you think: there are these places where the girls are super hot, live in poverty (and thus aren't spoiled) and will jump at a chance of snagging a knight in shining armor who will whisk them away to America. Your thinking is correct. Being American with some money will let you fish in the deep end of the gene pool in many a foreign land.
Russian and Ukrainian cities are teeming with ultrahotness: Slavic female beauty is world famous. There is no obesity epidemic there due to superior quality of food, so sometimes it looks like city centers are overrun by hordes of supermodels. The ubiquitous blond hair and rare eye colors are a part of the local genetic markup.
Meanwhile, widespread alcoholism in men is far from being an untrue stereotype, and there are many men wearing purses in the street and speedos at the beach. Simply not being an alcoholic and having a modicum of fashion sense are great assets there. Basic hygiene is also not really a default in men there. Boldness and fatness is not as repulsive to women in those parts of the world, and an American citizenship is an outright aphrodisiac.
So, those are all the advantages that you have there. What about disadvantages? A shared background is a cornerstone of a healthy relationship. You and your potential bride grew up speaking different languages, reading different books, eating different food, watching different tv shows. There might be some overlap in music, but the overall experiences that the two you of had were vastly different. That gap has to be bridged somehow, and it seems very likely to me that you will leave this burden to the girl. She will have to suffer the tremendous cultural shock upon arriving in the US (I know I have), she will have to speak English. Based on your spelling and grammar you do not strike me as good with learning languages, and Russian is a difficult one to learn. You also show a good level of ignorance of Russian culture, geography and history. That is a big handicap.
So, yes, there are millions of "normal chicks" there, but you are limited only to English-speaking ones, of which there aren't too many. Most "normal chicks" find it as hard to learn a second language as you are. So in practice the pool of girls that you are looking mostly consist of girls that have unrealistic expectations of life in the US, scammers (some of which are not actually girls), and those girls who can't find "normal dudes" because of one issue or another.
Even if you get through all the logistical and bureaucratic nightmares, there are some tough odds to overcome. Imagine yourself in a freshly minted mailorder bride's place: being a stranger in a strange land, feeling exploited and locked into a marriage, no old friends to lean on, having to speak English 100% of the time, homesickness etc, etc. That is some tough situation. If you are not god's gift to women where you live, your foreign bride stressed by all the changes will probably not like you much better, but will be locked into staying married to you for a good while. It'd be exploitative of you, wouldn't it?
The scammers are sometimes crude, sometimes very sophisticated. A friend of mine mentioned a girl that communicates in the way that you described with dozens of men, with the intent of scamming them. "She doesn't ask me to send money, to go visit, or anything else like that." That is a good sign, but this usually does not last: a good scammer does not want to set the hook too early. The fact that she does not own a tv or a computer and uses a friend's computer at work seems suspicious to me. Her story – too smooth. You can't be too careful in these situations.
Remember I mentioned my two friends who made their relationships work? The guys they married are very good looking, hard working, and have outstanding personalities. One pair met in an online game (true story), another at a university. Both girls spoke near-flawless English (the men did not learn more than a few phrases in Russian, very typically).
So here's my final bit of advice: if you do want yourself a beauty from the former USSR — learn Russian, at the very least read everything you'll find in Wikipedia about the places where you'll be looking, but better thoroughly educate yourself about Russian and Ukrainian history, politics, current affairs. Then do some traveling. Then you might be ready for something like what you are attempting. If you will learn enough Russian and will travel there, you can get laid with impunity without having to go through with the whole marriage thing, unless the "sex tourist" label bothers you.