A certain typographically exuberant poet wrote these lines about an Irish bar that I was recently taken to by a co-worker.
"I was sitting in mcsorley's. outside it was New York and beautifully snowing.
Inside snug and evil. the slobbering walls filthily push witless creases of
screaming warmth chuck pillows are noise funnily swallows swallowing revolvingly
pompous a the swallowed mottle with smooth or a but of rapidly goes gobs the
and of flecks of and a chatter sobbings intersect with which distinct disks of
graceful oath, upsoarings the break on ceiling-flatness"
The bar, McSorley's (15 E. Seventh St) turned out to be one of the most famous and unique bars in New York. And it's not like New York is short on old or famous establishments frequented by poets. In fact, even though McSorley's Old Ale House started operating in 1854 (or 1862 by some accounts) , Bridge Cafe at 279 Water has it beat hands down by going back to 1794. There are also Pete's Tavern (1864), Landmark Tavern (1868) , PJ Clarke's (1870s) and a few others in the Century Club.
What makes McSorley's stand out is that it operated continuously through the Prohibition, keeping renovations and changes in customs to the absolute minimum.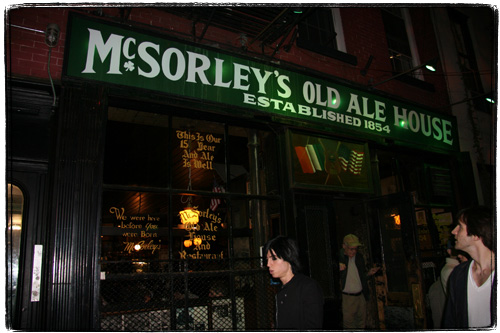 The traditions and customs are especially strong in this Irish bar that can proudly tell anybody, even the 124 year old Zabani Khakimova of Chechnya: "we were here before you were born." Another McSorley's old slogan, " No wine, no whiskey, no women" is only partially true. In 1970 New York State passed "McSorley's Law" that disallowed discrimination in public establishments. I've heard that it's still possible to have a gender specific private club still, but it has to have less than a certain number of members to be considered such.
These days, a man or a woman, when you walk into one of the two rooms at McSorley's and sit down at a WWII vintage table continuously soaked with beer, you'll find that you only have three choices of alcoholic beverages. A dark, a light or a "one and one". The dark ale or the light ale always come in two little 8oz mugs. You can have one mug of light and one mug in the same round.
The food is only slightly more varied, but just as old fashioned. The daily specials might include liverwurst sandwiches, burger and fries, shepherd pie and "cheese and crackers": a package of saltines in cellophane, some cheese and cut onions.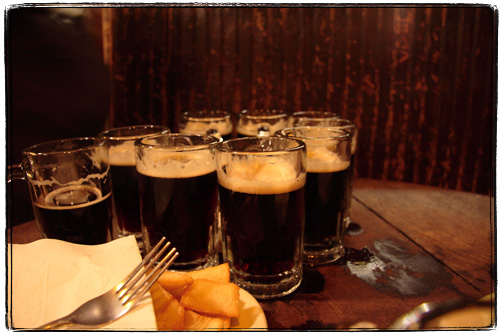 "Begood or Begone" is yet another slogan of this institution. Don't drink too little, don't be troublesome when drunk. "distinct disks of graceful oath" are Ok.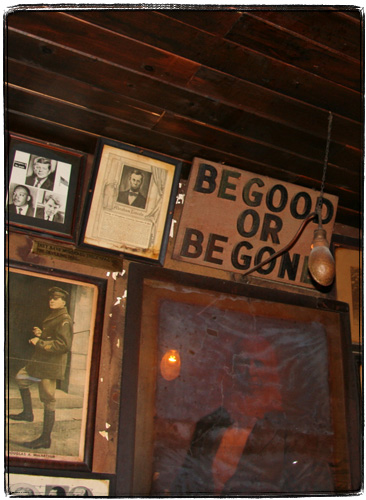 The waiters are both gruff and friendly at the same time. If you don't want to begood, they won't begood either and there's no doubt that they'll make you begone quick.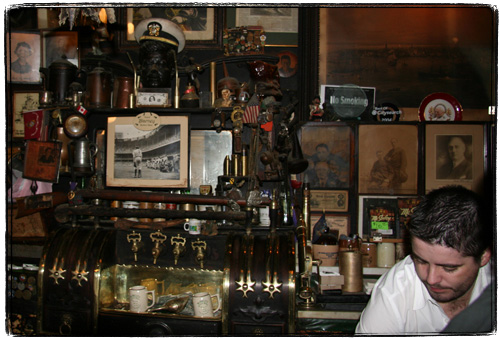 Here's E.E. Cummings' biographer's description of the place:
"It has two rooms, each with its individual admonitory sign, "Be Good or Be Gone." The walls are crowded with photographs and lithographs in which a vanished city dwells, and dead, buxom ladies and derbied men. The room in front has the bar, but the room in back boasts a famous lady of smooth and beautiful nudeness. . ."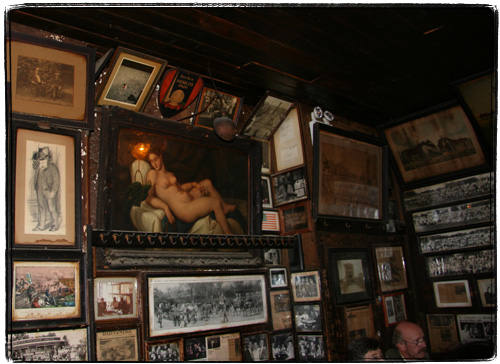 The place is truly "snug and evil". It smells funky, the ceiling is ancient and low, the floor is covered in sawdust, the glasses are clinking and the ale is flowing. Cummings got it so right, it's ridiculous.
With the exception of smoking prohibition and admission of women, McSorley's did not change too much. In E.E. Cummings' time one of the two kitchens was already converted into a bathroom with Art Deco/Sanitary Style urinals (these days there's a women's bathroom too). But the walls and the bar are still crowded with patron-donated artifacts, prints, paintings and photographs. Unlike the crap-o-la encrusted restaurants, the artifacts and images are authentic and full of meaning.
There's an old gas lamp converted to electricity over the bar. A group of regulars being shipped out to WWI placed wishbones on the lamp with the intention to remove them when they come back. Those that were not removed continue hanging over there collecting gobs and gobs of dust.
Any attempt to touch the almost century-old wishbones will surely get you a lifetime ban and probably a good beating.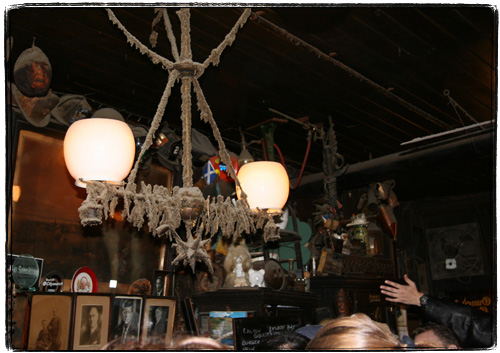 There are a few other interesting artifacts, like a pair of handcuffs that either belonged to one of the owners who was a retired NYPD detective, or to Harry Houdini. The helmets over the bar range from 1911 firefighter's to the 9/11.
"I was sitting in the din thinking drinking the ale, which never lets you grow old … Darkness it was so near to me,i ask of shadow won't you have a drink?"
My only regret is that it was not snowing outside this time. Also, the cat that is said to live at the bar did not make an appearance.
---
Crass Commercialism:
They sell McSorley's-style mugs over here