When faced with a lot of stress I employ several coping techniques. There's collecting pens ala officer Sorenson, watching New York's pigeons(overweight and disheveled they remind me of myself), meditatively looking at cornucopias of goods in various retail store layouts and fixtures, and then there's food.
Happiness derived from material things is fleeting, especially in the pursuit of the American Dream. But I grew up in the Soviet Union where the Socialist economy greatly restricted variety and quality of just about everything, and I have a slightly different perspective on materialism.
My friends who visited Cuba told me that people there are much happier than in the US: they have very little to aspire to in material goods, and thus live a life that is much less busy, and as a result much more relaxed and happy.
I frequently quote a paragraph from a letter by Carl Steinway to his brother Theodor in Germany:
"I cannot advise you to come here if you are able, by diligence and thrift, to make a living in Germany. People here have to work harder than abroad, and you get so used to better living that you finally think potato soup tasted better in Germany than the daily roast here."
Carl and Theodor are two of the "Sons" in Steinway & Sons. Steinway Tunnel is named after the third one.
The variety of food that I had access to growing up was not that great, but I certainly had better fruit and vegetables than the majority of Americans have these days. I've asked my younger co-workers, and they are sure that strawberries sold in American supermarkets taste like strawberries. It's a bit of a Matrix moment there (supermarket strawberries absolutely do not taste like real strawberries).
I had a childhood in which I only experienced hunger when dieting and cold when fishing in bad weather. On the other hand, my grandfather, who went through WWII, remembered the real hunger and the real cold. He was very glad that me and my father never had to experience hunger, and every time I would refuse to eat kasha, he would say – "so, you don't want to eat kasha that your grandmother made you – what do you expect – marzipan"?
I would ask him what marzipan was, and he'd say – oh, it's a very tasty French candy. He must have remembered marzipan from NEP times or maybe from his early childhood before the Revolution.
I always though that marzipan was something amazing and heavenly, the tastiest treat possible. I was also pretty sure that I'd never taste it. It was the gastronomic equivalent of the "sea rooster" fish (a very rare fish that I dreamt of catching in the Black Sea).
These days I mutter curse words when I catch "sea roosters" – they are considered a throwback fish in NYC. And marzipan – well, it turned out to be yucky concoction of almond paste and sugar that appears on store shelves around Festivus. I buy it from time to time to remember my grandfather.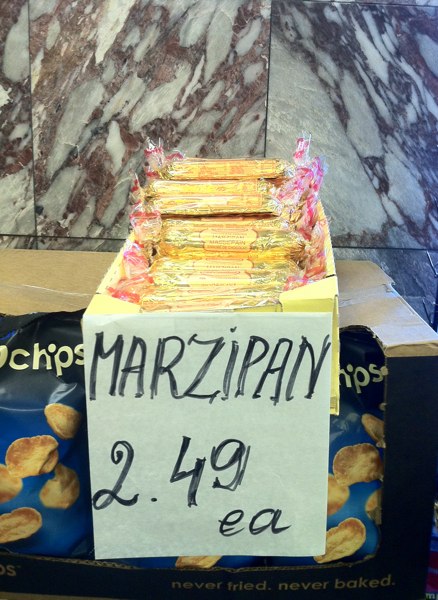 And when I want to taste a tomato or strawberry that tastes good I have to spend a lot of time and money at farmers markets or take a trip to my hometown.