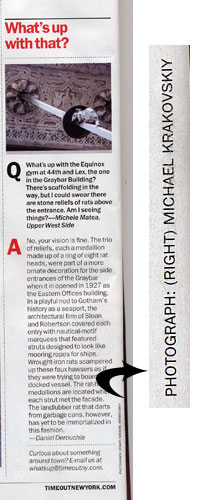 All those years of taking pictures and publishing them on my websites have finally paid off. My photo has been published in a print publication.
See, because of my article about Graybar Building a Time Out New York photo editor asked me if she could use the rat picture. I sent her a hi-rez version (I can't say that I'd crop it like that though).
So, the moral of the story is – take your own pictures instead of using what Google image search or free sock photo databases give you and one day you'll also be published in a magazine. There's no money (or even a free magazine copy) in it and the photo credit is placed in an impossible to read location and did not include deadprogrammer.com url like I asked, but I feel very special anyway. The article is in this week's Time Out New York – run and get this sure to become collectible issue.
Anyway, if you know anyone who'd like to use some of my pictures, write me an email or something.