Higher class of corporate denizens absolutely love metaphors, buzzwords and doublespeak. Corporate conversations are sometimes a bit similar to the way that Mr. Helpmann speaks in the movie Brazil:
"Bad sportsmanship. A ruthless minority of people seem to have forgotten good old-fashioned virtues. They just can't stand seeing the other fellow win. If these people would just play the game… "

"We're fielding all their strokes, running a lot of them out, and pretty consistently knocking them for six. I'd say they're nearly out of the game."

"All I can say is don't fall at the last fence. The finishing post's in sight. See you in the paddock… keep your eye on the ball. "
Although Mr. Helpmann only uses sports metaphors, they usually come in a much wider variety as chronicled at jennypeters.com.
For some reason, public transportation in a form of a bus became a symbol of "quick corporate death" as in "you need to document this project for the "hit by a bus scenario"" or "what if Joe gets hit by a bus tomorrow?". There's even an expression "bus number" – a number of key people in a company.
Yesterday I've encountered the actual "hit by a bus" scenario: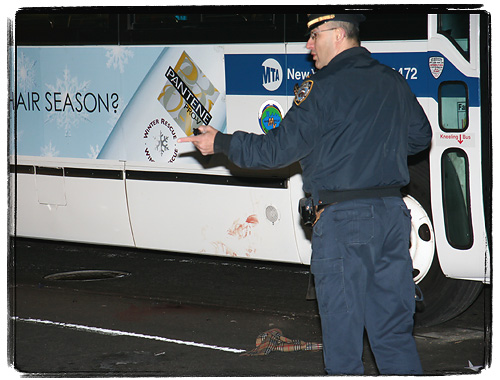 Apparently some old lady got run over by an MTA bus and lost a leg. My favorite cop quote from the incident – "Hey, you better get onto the sidewalk, especially in light of what happened here."