Let's face it, my week and a half trip to Japan was a major highlight of my miserable cubicle existence, and a major picture taking opportunity. In fact, it wore out my old camera. Still, I wrote up maybe a tenth of what I wanted to write about. Part III of the extensive posts still sits unfinished somewhere on my laptop. Writing long articles kind of wore me out, so I'll try my hand at small Scobel-esque little bunny poop postlets focusing on tiny aspects of my Japanese experience.
Any good Japanese guidebook will tell you that food is very expensive in Japan with one major exception: morning sets. Morning set (I think it's pronounced "morningu setu" or something like that) is a cheap breakfast menu. The average price is about 500 – 600 yen, or about $5. Paying for breakfast with a single silvery coin is rather cool.
As we all know, Japan is all about dainty stuff. Morning sets are chock full of kawaii. Your coffee is served in a nice cup, you get a cute little salad, a small scoop of potato salad, a croissant, a cup of yogurt with floating bits of fruit. Notice the cutest little stirrer-spoon.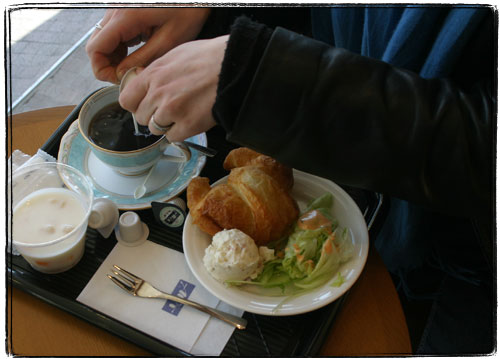 Although Japanese-style morning set exist, Western ones are more popular. Me and my wife had this particular breakfast in a little French-themed cafe right near our hotel. There was Mozart piped in from the speakers, but friendly service was most un-French.
Here's an American-style morning set. A tiny cute little omelet, a tiny cute little piece of bacon and the most manly toast. Morning set toast is super thick, reaching a few inches in cross section.

The interesting part is that Western-style morning sets are way more exotic and Japanese in nature than the traditional Japanese breakfast of rice, miso soup and fried fish. Beware of Western-style restaurants in Japan – they often suck, but definitely do not eat breakfast in hotel restaurants, but go for morning sets outside.
I added my photos with a Flickr tag "morningset". Maybe the collection will grow.
---
Ad:
I thought about including a nice Japanese guidebook in this ad, but that's boring. Katamari Damacy aka Katamari Damashii on the other hand is the most amazing weird Japanese video game. You control a tiny little alien who is rolling a ball called "katamari" around various settings. Objects stick to katamari, making it bigger and bigger, allowing you to pick up larger and larger objects. You'd be surprized at how addictive this is.
Wikipedia explains the meaning of the name: "Katamari means "clump", Damashii is the rendaku form of tamashii (soul or spirit). Therefore, the whole phrase approximates to "clump spirit," or, somewhat more loosely, "clump of soul." It might also be considered a pun — dama means ball while shii can be translated as circumference, and the two kanji that form the name look nearly alike in a kind of visual alliteration."
The objects that stick to katamari range from pencils and erasers, to takoyaki to giant squids and fishing boats. When I had my first ever takoyaki in Japan, all I could think about was this game.