Boing Boing, with it's love of red and anti-red comics made me remember Herluf Bidstrup. You see, for some reason in the Soviet Union multiframe format comics were seen as a western influence, despite their usefulness as a propaganda tool. Single and two-frame caricatures were common though. One glaring exception to the rule were comics of a Danish illustrator Herluf Bidstrup, who worked for a Danish communist newspaper. His work was published in a 5-volume set of coffee table books.
The fifth volume was all political, and thus particularly interesting to the Soviet reader. But the other 4 were full of amazingly drawn multi-frame comics that showcased Bidstrup's eye for little things in life and his crisp, flowing line. I spent hours upon hours looking at his cartoons. Unfortunately we left the books behind, but I will absolutely replace them (I've seen them for sale in a Russian bookstore, but balked at the price).
Here you can find some political editorial cartoons and everyday sketches, probably from the last volume at pretty good resolution. These include sketches from his visit to the Soviet Union.
This site, on the other hand has a lot of the good stuff from the first four volumes, alas at a terrible resolution that absolutely destroys Bidstrup's elegant line. Here's a similar site.
Bidstrup was pretty much anti-US. Here's Denmark scared by the Soviet menace joins the Nato. These are just few frames out of a longer sequence.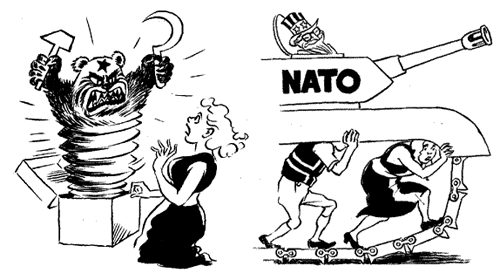 I absolutely love Bidstrup's take on the generational conflict and his other cartoons about families. This is another favorite of mine.

Sometimes he just could not help himself and drew pinup girls, and the editors of his books were forced to add politically motivated copy: this cartoon's title said something about how "this Bulgarian Eve is safe in the Garden of Socialism" or some such nonsense. I think it's just that Bidstrup liked exotic women in bikinis (forgetting to thank Uncle Sam for the bikini, of course).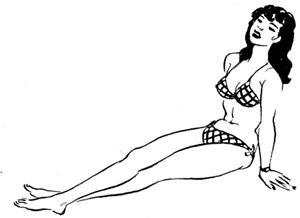 I bet that if he were born in the US Bidstrup would have become one of the finest pulp illustrators. I wonder if he illustrated any sci-fi at all…
Oh, and another thing. To this day I prefer cigars that taper on ends because they were prominently featured in Bidstrup's cartoons. These are collectively called "figurados" and are rather uncommon in the American market. The type that tapers on both ends is called "perfecto" and the one that tapers on one end is called "torpedo". These are hard to roll, so usually only experienced rollers venture to make them.