When I met Kitya, he told me that unlike Japan, US does not allow import of unpasteurized cheese from France. Never being into cheese much and thus knowing little about it, I still found it hard to believe that I would not be able to find some good and dangerous bacteria laced cheese in New York.
When I came back, it was time to go onto a gastronautic adventure. I headed over to Murray's Cheese counter located at 43rd & Lex, inside the Grand Central market. Lo and behold – they had more varieties of French "raw milk" cheese than you can shake an unratified EU constitution at. The only thing is, the cheese was supposed to be aged for 60 days. I can totally live with that.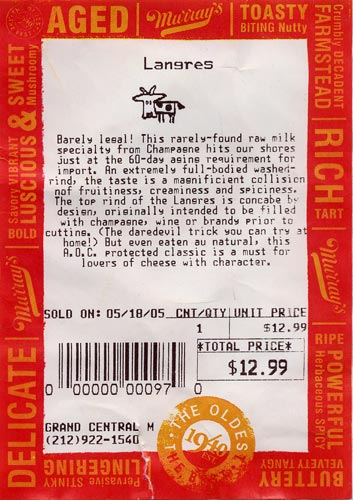 The "barely legal" cheese was very tasty, and my mighty Russian-American organism did not suffer from the French bacteria at all. I am pretty sure drinking single malt scotch with cheese is wrong, but I don't really like wine. Now I am on lookout for a cool vintage Art Deco cheese board and knives on eBay and some books about cheese at Amazon.