I dread the question "how was your weekend" because I usually spend my weekends not going anywhere. But this time I have enough to do a whole "how I spent my weekend" post as my wife dragged me to Boston. She wanted to see Russian bells at the Lowell House in Harvard as well as break the loosely stay at home cycle that I am so prone to.
We took a Fung Wah bus to Boston ("Licensed and permitted by Federal Highway Administration" and everything). Fung Wah is one of the companies that operates New York Chinatown to Boston Chinatown trips at cutthroat rates – about $15 each way. Somehow they took on Greyhound and seem to be winning – Greyhound was forced to bring its rates down from about $45 to $15. We took a Greyhound bus on the way back, and I've got to tell you that the Fung Wah experience was a bit better. They left on time, had little shopping bags to throw you garbage into, and most importantly did not play a stupid movie at full blast – I really did not need to have my mind raped by former Batman performing in 1998 Christmas horror flick Jack Frost. Next time I am taking Fung Wah again.
We were driven around Boston by and old friend of mine, had dinner in an Indian restaurant and later drinks at the top of the Prudential Tower. Top of the Hub is located on the 52nd floor of the tower and has views to die for.
I had some Old Potrero which (as I now know) was incorrectly billed as a Canadian whisky. Even though it's made in San Francisco and not Canada according to Anchor Brewing website, it was very good and unlike any other whiskey or whisky that I ever had. I'll have to get acquainted with real hoser stuff later.
Our hotel room purchased with hard earned Mariott Points&tm; had this outstanding view of the controversially named Leonard P. Zakim Bunker Hill Bridge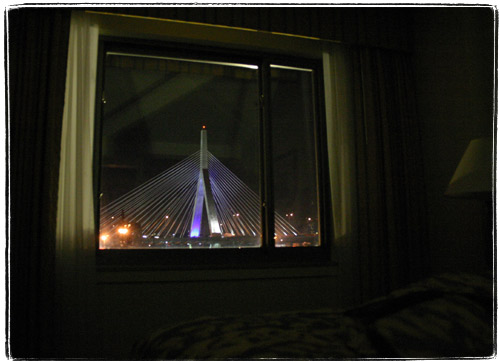 We visited the "Art Deco: 1910-1939" exhibit at the Museum of Fine Arts. There were two pieces that I really liked – a metal gate that was used as a door to an executive suite in the Chanin Building and a pottery vase. I tried to imagine what a regular employee would feel seeing that gate, with a design of cogs and wheels, coin stacks and lightning bolts so wild that it looked electrified. The vase had a design of spirals that looked like Cthulhu tentacles, actually shining with evil glow. Overall, for $20 the exhibition was too short and not that interesting.
The main purpose of our trip was a visit to the Lowell House Bells. As it turns out an amazing set of Russian bells from the Danilov Monastery was purchased from the Soviet government in 1920s by a diplomat and industrialist Charles Crane thus escaping smelting. Crane gave it as a gift to Harvard. The bells were installed and then tuned by Constantin Saradjeff, an eccentric Russian bell expert who reportedly had superhearing powers, being able to "identify by ear any one of 4,000 bells in Moscow".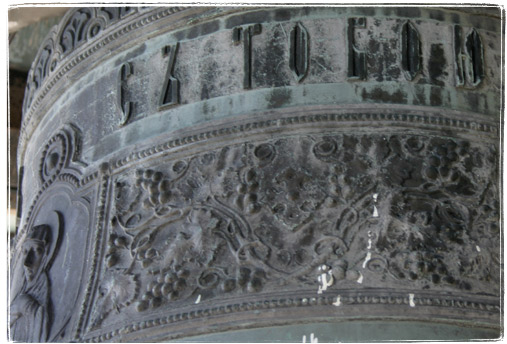 Harvard students organized a Society of Russian Bell Ringers and for 50 years have been trying to learn to play the bells and learn their history, passing everything learned onto the next generation. They practice for 15 minutes every Sunday and invite everyone to visit the bell tower, listen to and even play the bells.
There are 14 bells of small and medium size and two very big bells called "Sacred Oil" and "Pestilence, Famine and Despair", which are played from a console that has pulls and pedals: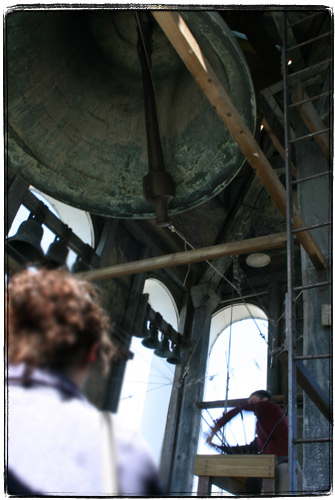 And then there's an absolutely giant 26,700 lb "Mother Earth" bell that is played by standing inside and moving its 700 lb clapper by hand. It takes a few sways to actually ring it once.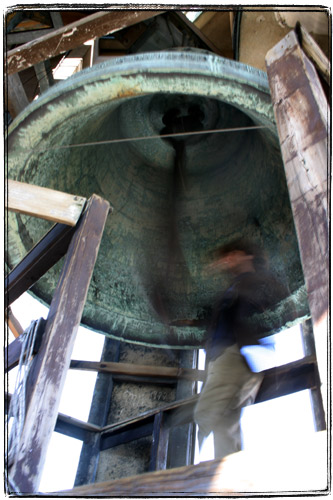 I stood inside the bell when it was played, and it was an unforgettable experience. The reverberations would not stop for minutes. Some say that Russian bells have healing powers. I don't know about that, but that ring of the Mother Earth bell must have had everything from infra to ultra sounds in it. My wife had a great time taking her turn playing the bells, and I kind of regret that I did not have the guts to try it. Next time I sure will, and advise that you do the same.