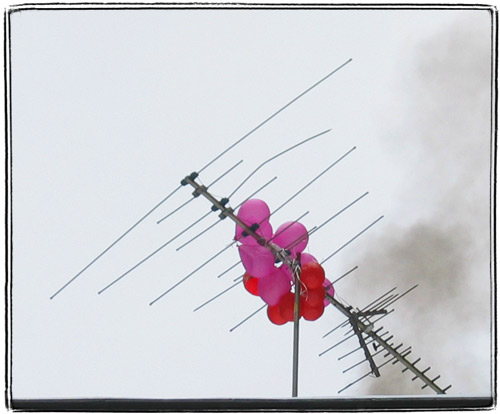 You know, most New Yorkers don't look up much. No matter how cool everything is around them, they don't want to look like tourists. But I am secure enough in my New Yorkedness to walk around looking at skyscrapers and taking pictures with my touristy looking camera.
This hideous yagi antenna is on a top of one of the old art deco buildings on 46th street. By the way, it turns out that it named "after Hidetsugu Yagi (1886-1976), Japanese electrical engineer" and not baba Yaga as I thought. Actually it should be called "Yagi-Uda" because he invented it with the help of Dr. Shintaro Uta.
Looks like nobody cared much for Dr. Yagi's work in Japan at the time. Of course, they regretted it after they discovered that it was used by the Allies as a radar antenna. This reminded me about how Pyotr Ufimtsev's dense paper titled "Method of Edge Waves in the Physical Theory of Diffraction", which was completely ignored by the Soviet military scientists, gave Denys Overholser, a Skunk Works radar specialist, all the theory needed to build F117 stealth fighter.
Indeed, yagis are very useful. You can extend the range of wi-fi networks with a yagi made out of Pringles can (gotta build one) and I've heard of a guy that made a yagi for his cell phone, so that he could access weak cell networks while biking across America. They may not look very good, but they have a kajillion uses in radio and tv.
Too bad there is no book about Dr. Yagi on Amazon, but here is a rather interesting site about Japanese inventors. Here's Dr. Yagi's statue and here's an iteresting quote that I've found: "US War Crimes Commission witnessed that Professor Hidetsugu Yagi was the first Japanese "to speak proudly of his work instead of denying it all."