I am mostly indifferent to sweets, but I absolutely love all things savory, so when I heard about a paste billed as "the ultimate cooking tool to enhance any savoury dish", and more than that called "taste number 5 umami paste" — well, I had to buy it, even if it meant buying it on eBay and having it shipped from the UK.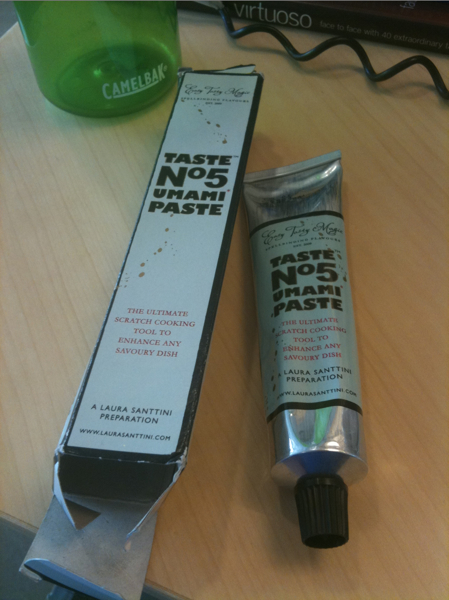 Umami is probably the most highly prized taste in Japanese cousine, the taste of salty meatiness. Interestingly enough in pure form umami can be mostly attributed to monosodium glutamate. Mostly – in the same sense that the addictiveness of cigarettes can be mostly attributed to nicotine. The overall picture is very complicated – there are many amino acids similar to MSG, I suspect just as "sweetness" can't be attributed to a single molecule.
But back to the umami paste. When compared to dashi broth, which for me is an etalon of complex umami taste, Taste No. 5 is somewhat disappointing in its simplicity. There's an overpowering taste of tomato – the primary ingredient seems to be tomato paste. The second strongest tasting ingredient is anchovy, which is great, but kind of stale. You can also taste olives, but for whatever reason these flavors fail to harmonize. The paste is a bit too oily as well.
A half-used tube of Taste No 5 sat in my fridge for a good while, but it's far from a miracle ingredient, and is mildly disappointing. I think the main flaw is the heaviness of tomato taste. I give it 3 out of 5. A high quality tin of anchovies is a much more versatile ingredient, and so is a bag of kombu kelp.