My Titanium fetish is well documented in my journal. Well, here's more titanium stuff:
There's this guy on an island off the coast of Canada who makes the best espresso machine tampers. A tamper is a little plunger that is used to pack coffee ground into a portafilter. Tamping is one of the most critical stages in making espresso. It's almost impossible to get good espresso without proper tamping. In fact, I've never seen a barrista in New York do a proper tamp. The one reason why Starbucks coffee became more drinkable is because they use automatic machines these days that tamp the grounds themselves.
I don't own a Reg Barber tamper because I already had and Ergo Packer, which is also very finely made and instead of having a flat bottom like all other professional tampers or rounded bottom like all the crappy ones, it has a very slightly curved one. "Very scientific!" would cry characters from this novel.
Anyway. Reg finally made a small batch of titanium tampers. Gotta get one.
Moving on. In the book "Skunk Works: A Personal Memoir of My Years at Lockheed", Ben Rich mentioned a special set of titanium shot glasses that his boss used for drinking with the generals. You see, the awesom SR-71 Blackbird was the first plane made entirely out of titanium. I wonder who has those glasses now.
But these guys have excruciatingly pretty titanium stuff. Sake cups, mugs, beer glasses – all made out of titanium. Jewelry is also very nice.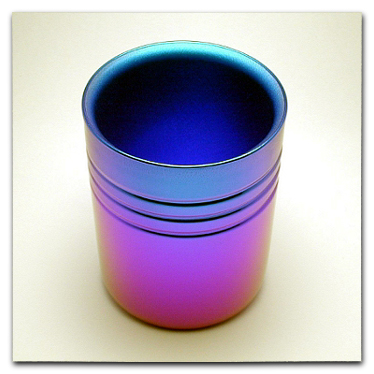 They can even make a street sign out of titanium for ya.
You know, I don't want a 1958 Plymouth Fury anymore. I don't even want a 1948 Tucker Torpedo. All I want is a 1956 GM Firebird II, the first titanium body car with a gas turbine engine. Is that too much to ask for?