I don't know if you noticed, but the golden arches of the McDonald's logo are not always "golden". McDonald's allows for a surprising range of color variations, like this green logo that was necessary to downplay the shameful existence of Mickey-D's in an uppity Sedona community. They even planted a shrub to hide the logo.
A fine example that might explain the failure of the The Golden Arches Theory of Conflict Prevention is the sinister looking logo on the Intrepid Sea, Air & Space Museum. The color harmonizes with the silhouette of A-12 Blackbird above on the deck of USS Intrepid.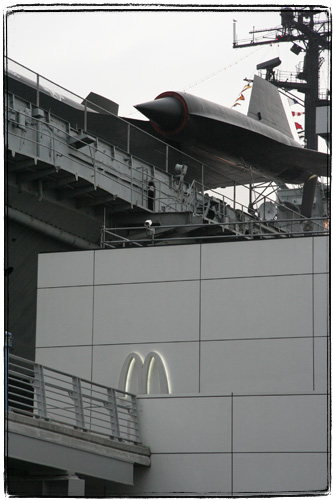 By the way, I always thought that Grimace was chicken nugget gone bad. As it turns out, I was wrong about the chicken nugget part, but was right about the gone bad part. Grimace used to be a four-handed villain hellbent on stealing shakes. My favorite quote from one of the number of the Mystery of Grimace websites: "Grimace wasn't marketable as a fat ass purple thief, but is marketable as a fat ass purple nice guy". Well, at least the Hamburglar is continuing his life of crime. And I am afraid Ronald might join him soon enough after being fired in Japan.
---