Pull this cool emergency shutoff button from an Amdahl mainframe that I've got on Ebay. Come on, pull it.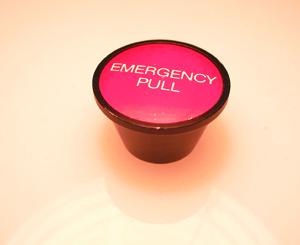 I think I'll replace the power button on my computer with it.
Some time ago I purchased a book about Amdahl, called The Legend of Amdahl. Turned out that the book is one in a series of books by Jeffrey L. RodengenJeffrey L. Rodengen. It looks like the dude was given access to many a company archive, but the prose is pretty much dry and many important (mostly negative ) things are omitted. I can't say it better than this reviewer at Amazon: ".. the author gives a lifeless, through-the-gauze-lens account that reads like a compilation of Amdahl PR releases and internal newsletters." Indeed most pages read like press releases.
In any case, it looks like that was the only book ever written about Amdahl. And there are some pretty cool photos in the book. And some interesting moments can be found.
There is an interesting anecdote about Gene Amdahl in the book. One of the first Amdahl mainframes was delivered to some Texas university. When it was installed, the college officials were horrified. You see, the official color of Amdahl, maroon, is also the official color of that college's bitter rival, Texas A&M. Instead of repainting Gene suggested a more cost effective solution – adding a sign that would say "Property of Texas A&M" or "Stolen From Texas A&M". The officials instead sent the panels to a nearby car dealership to be repainted. But it looks like Mr. Amdahl has taken a part in a college prank or two in his day :)
I've also got "The Spirit of Amd: The Legend of Advanced Micro Devices ", "The Legend of Ingersoll-Rand " and "The Microage Way". I think that I will collect all the books in the series at some point. "Legend of Halliburton" and "The History of American Standard" are next.