And here's what I spent much of my Sunday sitting in the armchair and reading The Amazing Adventures of Kavalier & Clay (thanks for recommendation, badger). For a minute I thought about where all the stuff that surrounded me was made.
Matcha tea is from Kyoto Japan, so is the bowl. The cigar's components hail from Nikaragua, Ecuadore and Sumatra. The water is from Fiji. The ashtray is probably made in China (my radium glass ashtray broke) and so is the window fan that sucks out all the smoke. The armchair is made in Italy. Tilde the cat is probably made in Brooklyn (even though she looks sullen, she was not posed at all).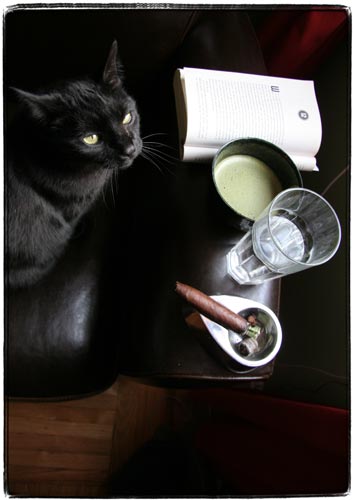 I wonder if Michael Chabon got the name for one of the title characters from this old hotel a couple of block from the Empire State Building.