For the first few hours I was pretty busy trying to find my wife and photography wasn't on my mind. After talking to a doorman at the building where she works I realized that she couldn't find me she took a bus to Brooklyn, I tried to relax a bit and took some pictures since there wasn't much else I could do. I did not do anything except cropping and adding a border to these photos.
"Fair, Balanced and Hot":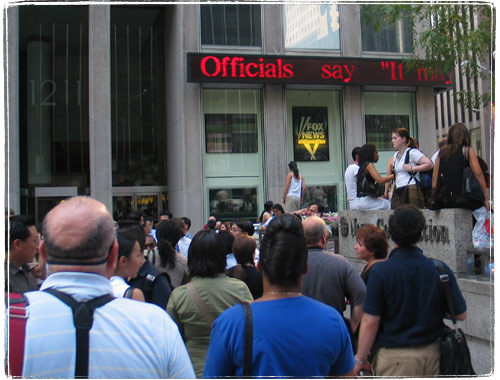 At this point I missed an amazing shot of cooks from a Japanese restaurants carrying home whole plates of sashimi ingredients, but got this: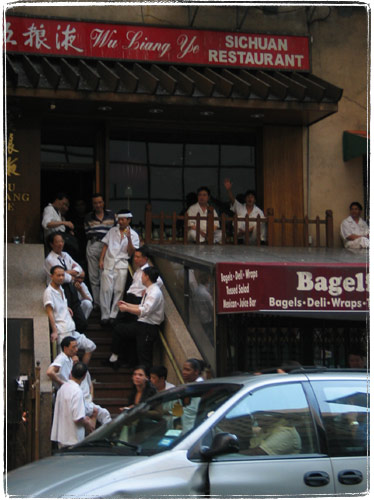 Live entertainment in front of the Newscorp building.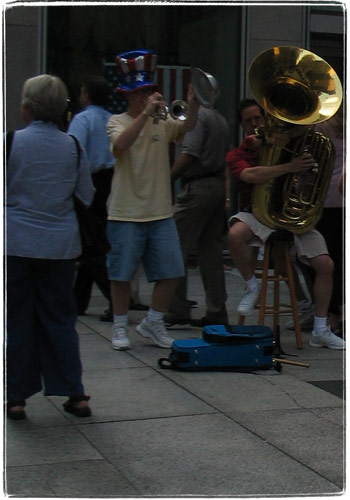 I haven't seen so much drinking in the streets and smelled so much pot smoke in my entire life.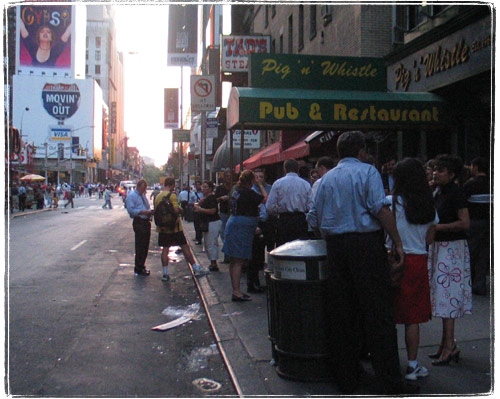 Give my regards to power grid engineers.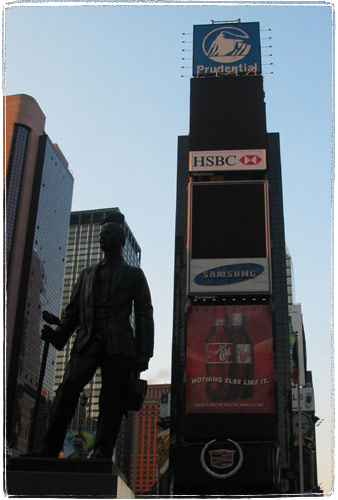 Atlas Shrugged.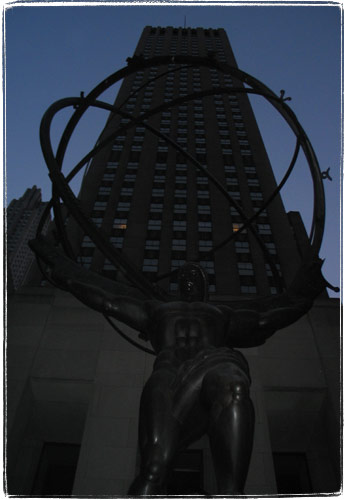 Unsuccessfully trying to catch a bus to Brooklyn in total darkness. The battery in my camera died and I missed absolutely amazing shots of a religious Jew reading Torah with a flashlight and of a police Segway. Stupid as I was, I was taking pictures without recharging my camera for about a month.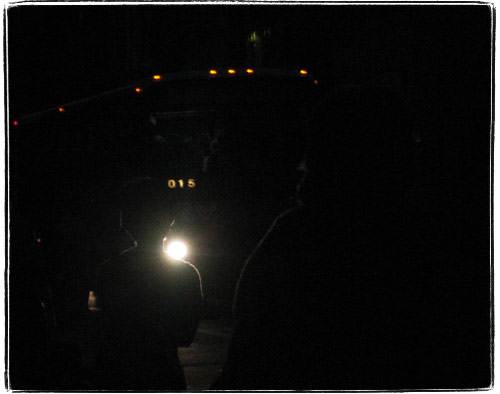 Later I joined some of my coworkers back at the office. Executives shared contents of their fridge (I didn't even know it existed) and stores of promotional items. We found blankets, t-shirts and, amazingly, TV Guide branded flashlight radios. Who knew those could be useful? The radios in the flashlights didn't work, but we found TV Guide branded radios that did. We had a little slumber party. I shared my antacid tablets with TV Guide president. In the morning we got home via car service provided by the company. Woo hoo!
I think I should go on a little survival shopping spree. I definitely need a high quality police scanner and maybe long range walkie-talkies. A red Photon light was very useful, I should get a few more of those. Need to stock up on batteries. Oh, and I definitely need to buy some black bakelite phones. Those worthless piece of crap wireless phones don't work in a blackout of course.