My cable connection is out, so here I am writing junk in my journal.
was sending everyone at their request postcards when he went on vacation to Eliat. He sent me a nice postcard with a jelly fish. I put it up on my cubicle wall.
Then I've got my order from spaceshack.com. Inserted in the order was a handwritten postcard with the picture of Earth from space.
Hmm, I've got a theme going there.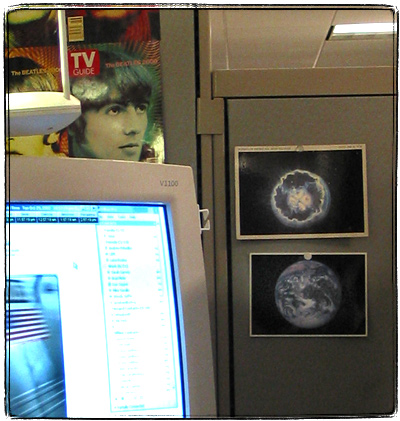 No, that's not on the TV Guide cover, although it looks very much like him.
Oh, yeah, gotta plug Spaceshack.com. Remember my post about NASA Meatball, Worm and Vector? Well, I finally decided what to put on my bathrobe. It's going to be a NASA Meatball and a custom made NASA name tag (when you click on the link, it's under the flight jacket). These are exactly the same as ones that real astronauts wear. Yeah, and I highly recommend Spaceshack for all your dorky NASA needs.