New York City is literally overrun with B and C-list celebrities. It seems they are the only ones who can still afford apartments in Manhattan.
I was having drinks with my co-workers across from Roundabout Theater. There was a bunch of D-list celebs in front of it, nobody I could recognize. And then my former co-worker and the owner of planetofthegeeks.com points and says – hey, I already bumped into one of Sex and the City actresses earlier this week, and there's Sarah Jessica Parker. Now I need two more to finish the set. I snapped this photo right from our table, without getting up.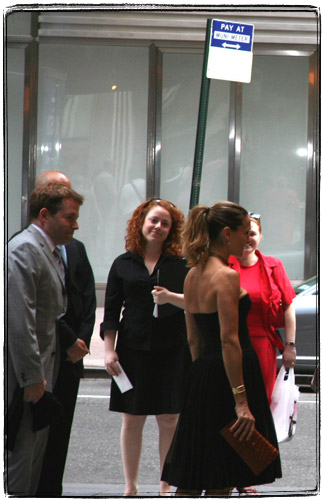 Having learned from the time when I missed Tara Reid's boob escape, I was ready for a repeat, but no matter how much pressure Sarah Jessica put on her mammaries, they stayed in place. That fold looks painfull though. Also it looks like Matthew Broderick is growing one from his head, but I only had about 10 seconds before they entered the theater to take this picture.