Blue Sun Corporation is and important, but not very noticeable part of the the brilliant, but so very canceled TV series Firefly. Their logo is everywhere you look, but they are oh so very evil. They conveniently provide all sorts of goods and services, but at the same time they run sinister human experiments, employ vicious killers and wallow in their crapulence in every imaginable way an evil corporation could.
You can buy your very own Blue Sun t-shirt at Think Geek.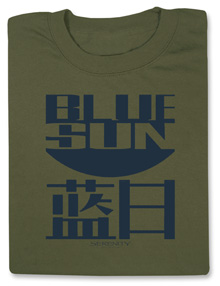 In Manhattan there are two corporations that very much remind me of Blue Sun: Verizon and Chase. Every time I deal with them I feel that I am forced to do things that I don't want to do and that I am getting a bad deal. The only reason everybody's dealing with Chase and Verizon is because they are everywhere you look. In Manhattan you can't swing a dead cat without hitting a Chase branch, and Verizon cellular signal reaches underground into some subway stations.
Chase advertises its omnipresence with this sinister ad that could just as well be from an alien infection film.
This kind of ubiquity allows these corporations to charge above market prices and have bad customer service.
Why do I hate Chase? Well, they keep thinking of ways to make depositing money more difficult. First they changed their deposit slips. Am I the only one inconvenienced by that? No. Here somebody altered the little poster announcing the change.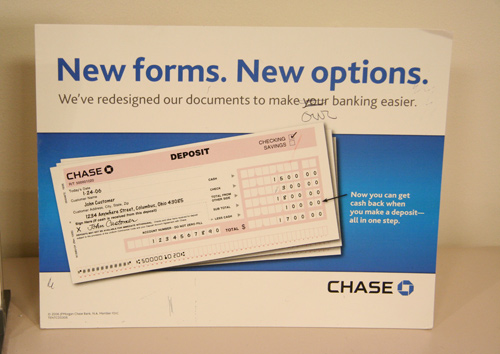 Now they started using cash machines that do not take envelopes, but scan your check. As you, me, and the people who plowed money into Riya, you can't rely on computers to non-trivial optical recognition. I tried depositing 3 checks several times. The machine ate one of the checks (not giving me a receipt) and rejected the other two. I wasted a lot of time and cell phone minutes trying to report the issue (they did not even provide a courtesy customer service phone). I still haven't seen the money from that check.
Lying commission-driven customer service is another big problem. At Chase they constantly trying to sell you something. Once a customer rep tried to sell me a historically market out-performing mutual funds. He had this awesome "prospectus" with charts carefully selected to show crazy returns, but refused to give me a copy so I could research it.
Verizon reps will routinely forget to tell you about contract extension that comes with any service change, even if you don't have get a new phone. Then they will refuse to change anything in your contract. They will add expensive features you don't ask for. Good luck trying to have your defective phone repaired – it's an ordeal.
Both Chase and Verizon are a bad value, but great convenience. I suspect that part of their penchant for name changing is not so much because they keep buying up competition, but because their customers don't think very well of them at all. I was their customer when they were Chemical Bank and Bell Atlantic. They sucked back then too.
The worst part of dealing with banks and communications companies is that they heavily penalize you for your mistakes, but there's not much you can do to charge them for theirs.
Chase stopped sending me Amazon credit card rewards for about a year. An hour of customer service phone calls and a month later I got my Amazon gift certificates. It's free for them to mess with you: you have to do a lot of work to make sure that what you get from them actually comes through. Instead of digitally depositing the certificates, they send them on paper slips containing long strings of letters that you have to type in. It's cheaper to splurge on the cost of printing and mailing in the hope that it will get lost. And if they stop sending them and you forget? Bonus. Also, there's something called "float."
On the other hand, send your credit card payment late and you get a huge fee.
Use a bit more minutes than are in your Verizon plan, and you'll get a bill that will make your teeth grind. But on the other hand, they overcharge you and then sheepishly return the money (which just now happened to me), you don't get to charge them a fine.
I think there was this guy who charged his bank a fine for every mistake that they've made, but I can't find a link.
Anyway, to make the long story short, Verizon and Chase make me want to vomit in terror. I've been with them for years, but it's time for a change.
It's interesting to note that I've worked for both Chase (briefly as a consultant) and for Newscorp. What's interesting about it? Well, Newscorp owns New York Post which was founded by Alexander Hamilton. The "Manhattan" part of Chase Manhattan Bank (as Chase used to be known) comes from The Manhattan company, founded by none other than Aaron Burr. Because I currently work at the World Trade Center, I frequently walk past Hamilton's grave in Trinity churchyard.