Ok, I've made an extravagant purchase. But I wanted it so, so much!
What was the object of my desire? It was a book of photographs called "Cray at Chippewa Falls".It was an album by Lee Fridlander that was commissioned by Cray Research. The book was given to employees and was sold in Cray company store to visitors, but there were only about 5000 copies made.
The photographs are of unspeakable beauty. Friedlander starts with outskirts of Chippewa Falls – the waterfall, forest, fields. Then the photographs depict a typical small town – a railroad track, broken down pickup truck, suburban houses. Then the center of the town: a barber shop, Radio Shack, some fast food stores. Nothing extraordinary (except for Friedlander's photographic talent). But then the magic begins. The book is full of photographs depicting highly concentrated men and women among chip making equipment, chassis of supercomputers with garlands of wires, computer terminals. Everybody is filled with a sense of purpose and pride – they are making the most advanced thinking machines in the world!
Seymour Cray, the Superman of Supercomputers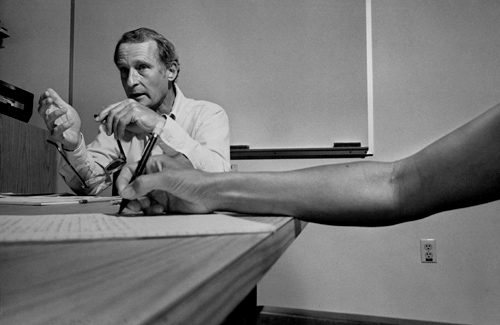 That's Cray 1 in the background. Notice a nice little leather covered bench around the chassi. It was meant as a place where technicians could sit and warm themselves after spending a long time in an air conditioning room. In reality, few technicians would sit there for the fear of breaking the multimillion dollar machine.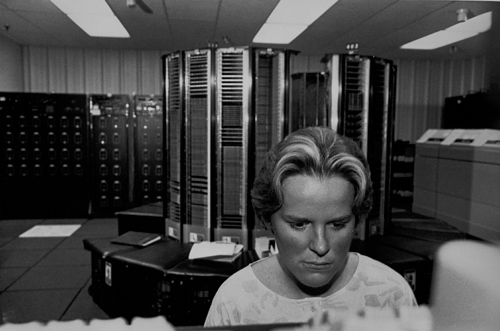 Aaaaa! I am swallowed by a supercomputer!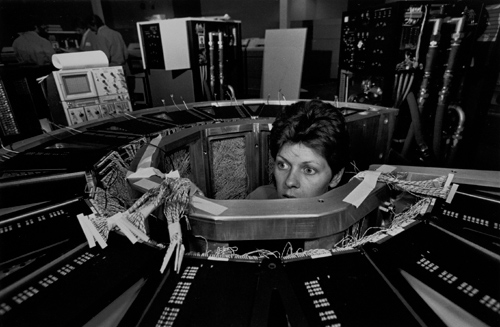 That's a lot of wires. But if they put their heads together…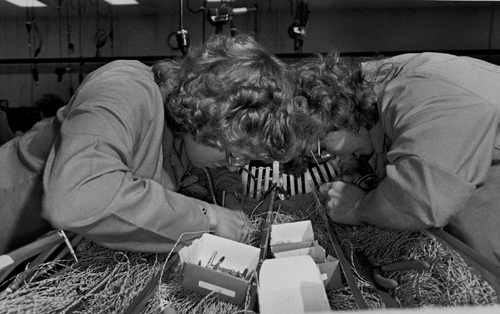 Even though I paid $250 for this album (and it is worth every penny), the copyright of course does not belong to me. But I am pretty sure that showing you these photos falles under "fair use".
From http://www.louisville.edu/~ddking01/mmgdl01.htm :
"Under these guidelines a photograph or illustration may be used in its entirety but no more than 5 images by an artist or photographer may be reproduced or otherwise incorporated as part of an educational multimedia project"
So if anybody asks – this is an educational multimedia project.