There are a lot of scary things about getting older, but the scariest and the weirdest is the change in perception of time. I've encountered this idea twice, once in Stephen King's short story "My Pretty Pony", and another in the movie "Blue Thunder". At the time, in late 80s I thought that time "flies" only when you are enjoying something, and "creeps" when you don't. Saturdays go by faster than Mondays. Turns out, as you get older time picks up pace, everything becomes a blur, good or bad.
Cult 80s movie "Blue Thunder" has this little bit about a helicopter pilot playing with his fancy digital Casio watch that had an interesting analog countdown feature. He was using the watch to test his time perception, claiming that "it was the first thing to go when you go over the edge."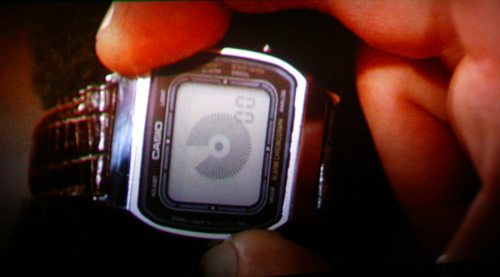 Watch buffs know this watch as Casio AA-85 and the analog feature as Module 101. I always wanted one of these, and now I finally picked one up on eBay for a song. I know I need it – it seems to me that I am really losing the proper perception of time, it really sped up for me.
In Stephen King's short story "My Pretty Pony", an old man is instructing his grandson on the nature of time after watching him lose in a hide and seek game to a kid who counted too fast. He says, that there are three times, only one of which is real. When you are little, it seems that the time goes by very, very slowly. I remember that very distinctly – days were very long, even the summer vacation took forever. Then, when you are about 14, time starts to be "real" – neither slow nor fast. As you get older time picks up pace, only slowing down when you are badly hurt. He called time "a pretty pony with a wicked heart."
I don't know about you, but time is definitely speeding much more now than when I was younger. It's pretty scary.
[Update] Bought on eBay, fixed and even found a similar watch band: