People were filthy and smelly in the olden days. And HBO capitalizes on amazingly good historical dramas teeming with filthy, period authentic characters. First there's Carnivale, a mystical drama set at the turns of the Century. It has everything : carnies, okies, tarot cards, old cars, Art Deco and Craftsman interiors, mysteries, psychics, telekinesis, Knights Templar, evil preacher played by brilliant Clancy Brown aka Mr. Eugene Krabs from Spongebob and a lot of filthy people. And absolute tivo-worthy show.
Then there's Deadwood, set during the gold rush. A high quality historical show, Deadwood writers try to stay as authentic as possible, hygiene and all. Famous hacker JWZ is not a fan: "It's like watching paint dry. Dirty, foul-mouthed paint, but paint nonetheless." I guess he is just not used to "Milch-speak", a very peculiar style of dialogue that the show's creator and writer, David Milch uses for his characters.
Familiar to fans of NYPD Blue, Milch-speak is a rather weird . I real life I encountered Milch-speak being used by often smart people with difficult and important jobs, who although lacking formal education, try to sound educated. It's rather hard to explain, but I'll try. First of all, milch-speakers use a lot of long words, meanining of which they more often know than not. They often mispronounce them though. The sentence structure is strange and tortured. It's almost overly formal, Victorian in nature, and at the same time involves elements of Brooklyn Yiddish. It's like as if listening to a very profane Victorian Yoda from Brooklyn. The sentence structure often resembles programmer-speak, so many logical twists and turns it has. There's also lot's of irony and slang.
Here's a quote from recent episode: "Bad news or tries against our interests is our sole communications from strangers, so let's by all means plant poles across the land and festoon the c*cksuckers with wires to hurry the sorry word and blinker our judgments of motive."
The character who spoke that line, appropriately named saloon owner and master criminal Al Swearengen, according to Entrepreneur magazineinspired David Tufte, a professor at Southern Utah University's business school to use Deadwood as a source for his students.
Here's Al staring at me from an ad inside special Deadwood themed subway train: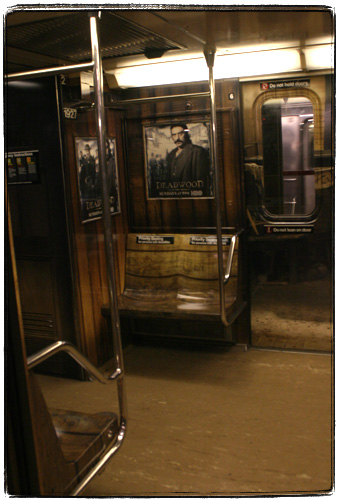 Subway seats wrapped in special plastic to resemble old-timey leather chairs. Add a lot of filthy passengers and you'll get a full Deadwood experience.