Tilde the Cat thinks she is people: today she reported for work in her own cubicle, just like her master.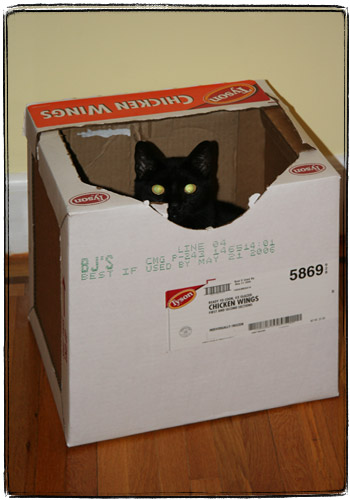 The most useful thing I did this weekend was organizing my papers. It's kind of like therapy for me. The amount of paper crap that accumulates on my desk is amazing. Junk mail, bills, magazines. Well, I'll describe my organizational system for you. It consists of three stages.
1) Intake: basically heaps of paper on all flat and not flat surfaces in my apartment. Care must be taken to hide paper receipts from Tilde the cat, or she'll file them in her stomach. Receipts are a delicacy for Tilde.
2) Stage one: a stack of three milk crates with folders inside. There are these special bound folders books that I bought at Staples that have partitions for various bills and documents. There is a special folder where I file stuff for the Tax Man throughout the year.
3) Stage three: big plastic boxes where I file away older stuff.
Among other things I found an old box that held Christmas cards and tip envelopes from my job as a doorman. Among them was a card from Professor Samuels. Disturbing, huh?
Also disturbing is the fact that I learned about the particular Staples where I usually go on office supply buying binges. In the past it used to be a Waldbaums supermarket that burned down in the seventies. 20 firefighters were standing on the roof dousing the fire when it collapsed. The ones that fell in the aisles mostly made it, but 6 that landed on the shelves (yes, yes, those gondola shelves) died (I don't really understand why, but that's what I've read in Bay News).
Disturbed enough? No? Well, I recently learned that Bryant Park used to be a cemetery. There.