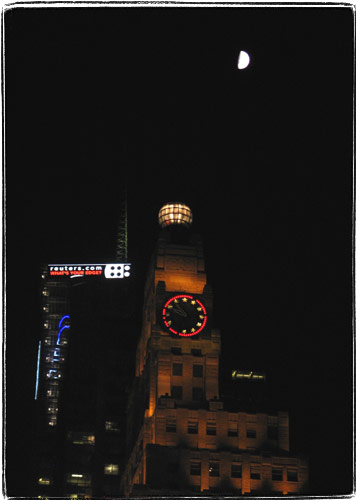 The skyscraper with the globe on top is called the Paramount Building. The building has a mountain like shape and the little stars on the illuminated clock face look like the stars on Paramount Pictures logo:
That building used to have a kick ass movie theater on the ground floor, the kind described in my favorite sci-fi story of all time, Henry Kuttner's "The Proud Robot". Now it houses WWF store and NY Times offices. WWF undertook an amazingly complex project of rebuilding the original theater marquee:
"Working with the New York City Landmark Commission was a prolonged challenge in replicating the historic sign. Purists on the Landmark Commissions often push for exact replications ­ right down to the materials involved. But Tobin & Parnes had ideas for bringing the epic sign into the 21st century using new materials and technologies.
The commission initially rejected the idea to use LED technology in 1996, but later approved the concept as more signs in the surrounding area started incorporating LEDs. "
…
Multimedia Signage Inc. in California manufactured the signage that boasts the highest resolution ever achieved. The LED pixels and cells have a .45 pitch. The highest resolution before this sign was created was .75 pitch.
…
In order to get TV quality resolution on these screens we needed to go with that .45 pitch, otherwise the resolution would only give you a clear image of someone from their shoulders to the top of their head,�? said Ms. Dibner. "Using the .45 pitch we can get almost the whole person in there.�?
…
But how do you use technology without distracting from the historical detail of the sign? It was something that many were not sure could be achieved using LED technology because the sign curved up and down. But the Landmark Commission demanded that the sign's original curvature be replicated.
The solution: using very small diodes and arranging them to match the curve. The result: any image on the sign curves with the curvature of the marquee with no distortion, another requirement of the Landmark Commission. "
I just love the topic of new technology meeting the old. But Landmark Commission people are nasty engineer hating snobs.