Part II : Chuck Garabedian sez : "Ya gotta squeeze every penny"
My wife booked our tickets though go-today.com, thriftily opting for the cheapest tickets that do not specify the airline prior to purchase. I was expecting the horrors of Aeroflot, or even worse, flying under the 5-headed eagle flag of Turkmenistan Airlines. On a crop duster or something. But we were pleasantly surprised to become proud holders of All Nippon Airways tickets. And that meant flying on a 747-400 without one of those Pokemon or Hello Kitty paint jobs, but with 4 classes of seats, on demand video monitors in all of them, nice meals and snacks, ultra clean bathrooms, and 20% more bowing.
A flight from JFK to Narita Airport takes about 14 hours non-stop. I found it to be no worse than an extra long day in a cubicle. Except instead of working I read, watched free movies (they had The Incredibles!) ate tasty meals and wondered if one could learn to smile professionally like the Japanese stewardesses. Oh, and I took a nice picture of a circular rainbow. Unfortunately I missed seeing the fish-like Sakhalin Island where my father spent a part of his childhood and my mother earned her college degree. I hope one day I'll visit it.
Now for some photos (there will be more interesting ones in the next post). Make your own Google maps with Keyhole technology. The whole thing looks like a motherboard, doesn't it? For some reason Japanese like to paint their towers in red and white.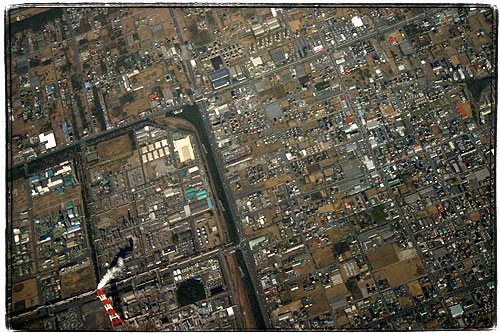 In stark contrast to the heavily industrial area above, Japan is full of agricultural areas filled with rice paddies that glisten in the sun. I was gonna say like the steel of a samurai's sword, but did not.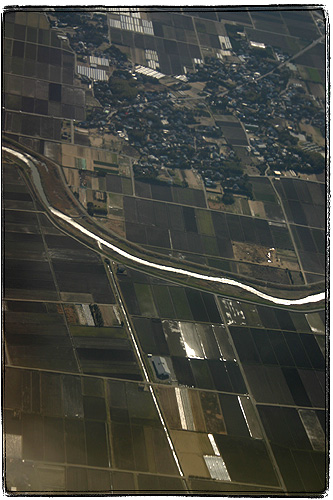 In Narita I came into my first contact with the wonders of Japanese wending machines. My first purchases on the Japanese soil were a $30 Hello Kitty phone card (that was way too much, a $10 one would do, besides they sell them everywhere) and a bottle of a sports drink called "Pocari Sweat". As it turns out many Japanese products and businesses have strange, but somewhat relevant Engrish names. Overall the vending machines in Japan are way nicer that the ones in the States. I'll write about them later, but for now I present you with the picture of a small battery of rectangular (or should I say parallelepipedal) sports drink bottles that accumulated on the windowsill of our hotel room.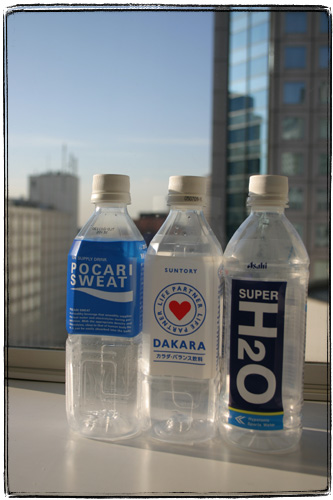 Go-today.com deal hooked us up with 5 nights in Shinagawa Prince Hotel. It's a huge complex of a hotel located just next to a major Japan Rail station. Narita express as well as shinkansen trains stop there too. Just like ANA's jumbo jet, the hotel seems to tailored to serve a number of different classes of customers. There's the Executive Tower, Main Tower, New Tower and Annex Tower. We got a room in the Annex Tower which is probably like the Fiesta Deck. Still in the good old tradition of the 3rd class on a pre-war cruise ship, the room was tiny, but well designed, clean, and had very nice extras not usually found in American hotels such as yucatas, toothbrushes and razors in the "little shampoo and crap" kit and a washlet in the bathroom.
Japan is one of the last true bastions of smoking, so we could not get a non-smoking room. There was a smell of cigarettes in the air, but fortunately the windows were openable (and with a great view, including a skyscraper with a huge Canon logo) and after a short airing the room was livable. There was no hardwired Ethernet and during my stay I only figured out how to get the key to the wireless network only at the very end (you need to go to the Yahoo! cafe, fill out some paperwork, buy a drink there and ask for the access point password).
Overall it seems that Japanese businesses often treat coach class customers better than American businesses treat their business class and often first class.