One of my favorite places to eat out when I feel depressed is the row of Korean restaurants on 32nd street. My life seems to be saturated with tsures lately, so I dragged my wife there on Monday.
That area is known as K-Town, Koreatown or Little Korea even though it's just one city block (32nd between Broadway and 5th). It's a very interesting place. Towering over it is the Empire State Building.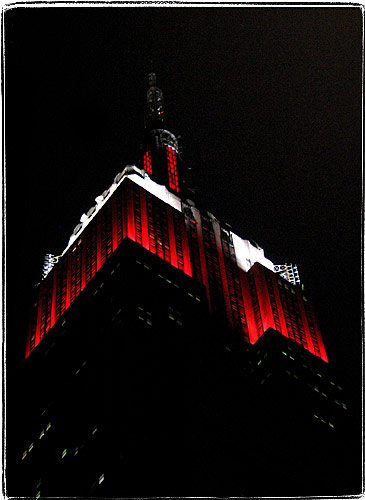 The street is composed mostly of traditional Korean restaurants,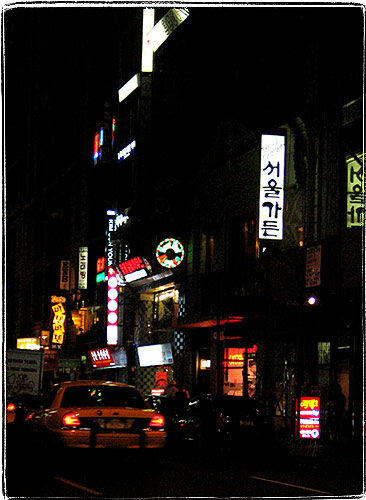 gleaming cafes (I wish I could have some bubble tea or other types of the sweet sweet goodness that they sell there)


and other businesses sprinkled in between.
What I usually go for is Korean BBQ. It works like this: you sit at a special table with a fire pit in the middle. The waiter places hot coals into it with a well practiced movement. Every time I see that maneuver I think about how much their insurance must cost them. Then they bring you your choice of raw meat, seafood or vegetables and you proceed to grill it. You also get a ton of little side dishes, souses and very fresh lettuce leaves to wrap your grilled food in.
I really like food wrapped in lettuce. I even thought about opening a little street vendor cart selling lettuce wraps. Lettuce wraps in my opinion are much better than burgers. They are Atkins friendly too.
Korean BBQ is not extremely cheap – expect to pay $15-20 per dish (and even though you don't get a lot of meat, combined with side dishes and lettuce it's a filling meal). You also have to order at least two dishes to be seated at the grill table. I highly recommend marinated tongue.
Another unusual food that I tried there is raw beef. It's very fresh and is served marinated and very cold. Great stuff.