I firmly believe that expensive and well designed office chairs like Aeron or Mirra make a very good investment. On the other hand my friend, a very successful entrepreneur, tells me that much cheaper 300 dollar chairs are just as good, and that his most prized employees, when asked what kind of a chair they want said that it does not matter. My friend is very smart, very rich, and probably right.
People who have chair lust, like me, sometimes have an even more irrational desire – to buy expensive table lamps. When Joel Spolsky visited me at work, i pointed out to him that everyone at my office had a four hundred dollar Artemide Tolomeo desk lamp. Joel, famous for his office architecture fetish, was not impressed — oh yeah, we have a whole bunch of them too at Fog Creek, — he said.
I noticed that the set designer of the hit show House, MD also has an obsession with lamps. Even more interestingly, I noticed that Dr House's office has three very interesting lamps.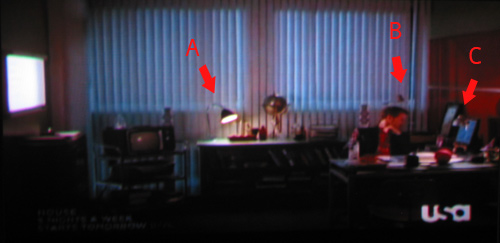 Lamp A is a paragon of British design, Bestlite, a lamp that I always wanted, and never bought because it's crazy to spend that much money on a lamp. Designed by Robert Dudley Best and made famous by Winston Churchill, who had one in his office, it's the Bentley of expensive designer lamps. It's just crazy to spend over $600 on a lamp, innit?
Lamp B is the Artemide Tolomeo, a floor version of the lamp that I have at work. It's a beautiful lamp that works very well. The desk version is about half the price of Bestlite, but it's crazy to spend $300 on a lamp, right? Even if it's designed by Michele De Lucchi and Giancarlo Fassina?
Lamp C appears all throughout Princeton-Plainsboro Teaching Hospital and gets the most screen time. It's a 25 dollar Antifoni work lamp from Ikea, and the one that I have on my desk at home. Who designed it? I don't know, it says "Ikea of Sweden". What does Antifoni mean? According to Nordic Names, a website for translating crazy Ikea names like Bjöberg and Drömma, it means "antiphony".
By the way, apparently Ikea founder Ingvar Kamprad has a Nazi past and chose to name all the furniture because SKUs were hard for him to keep track of due to his dyslexia. Also Gillis Lundgren, besides being famous for designing the Billy bookcase (I have 12 of these in my apartment) , actually invented the concept of flat pack furniture when he sawed off legs from a table that would not fit into a car.
Also on the subject of Ikea lamps: