Graybar building is one of the bigger, yet lesser known New York City skyscrapers. Located at 420 Lexington Avenue, it leans against and over Grand Central Terminal. In fact, I walked by it many times thinking that it was a part of Grand Central.
The understated Art Deco design helps to hide the huge bulk of the building. Some of the sparse embellishments are striking and very unusual.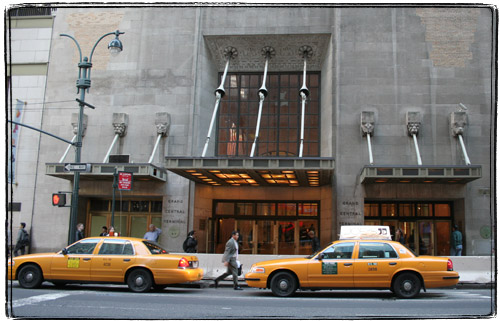 The cables that hold the rain canopy in place are in the shape of ship's mooring ropes, complete with rats and anti-rat devices. I did not notice this at first, but the rosettes from which the ropes emanate are decorated with rat heads. Freaky, huh?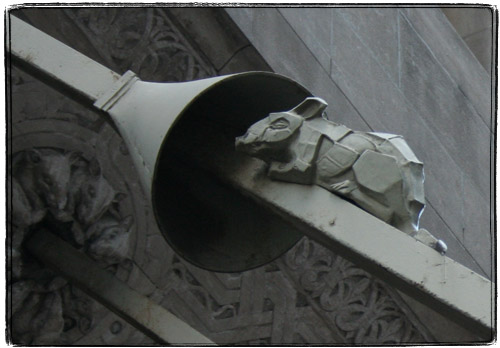 Bas relieves to the side of the entrances are rather conventional allegorical representations of communication – a dude holding an old-timey (but maybe slightly out of date in In 1927) phone with lightning bolts around his head and stuff and transportation – similar looking dude holding a truck. The other two relieves are of Deco-Assyrian looking Prometheus with fire.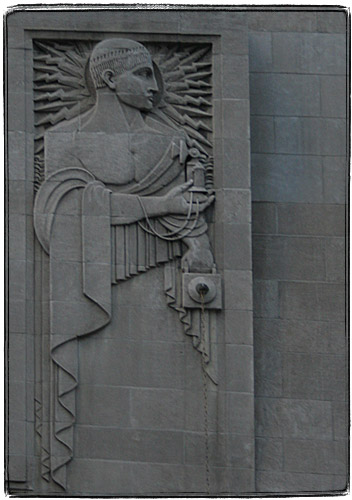 There's an antenna at the top of the building. I could not find any information about it.