My TIVO has fallen on hard times. It seems that the network executives cancel shows faster than I find new ones to watch. The ones they don't cancel, become bad. Let's have a moment of silence for the dearly departed…
Futurama, Firefly, The $treet, Invader Zim, Deadwood, Carnivale, The Restaurant, Six Feet Under, The Job, Insomniac With Dave Attell, Samurai Jack, Sex and the City, NYPD Blue, Friends, That '70s Show
SEO for CTOs and CEOs
Note to those working hard on search engine optimization. How did IMDB get me to give them so many valuable links? Why does it have a pagerank of 9? Why didn't I use some certain other TV and movie review site? Simple. IMDB does not change URLs every couple of years, the search is simple and fast.
Well, in fact most of the shows that were on my old TIVO list. In particular, HBO has been especially keen on destroying my viewing list. Granted, some of the shows like NYPD Blue and Friends have lived longer than they should have, but on HBO Deadwood and Carnivale have been cut down in their prime, most annoyingly, not even ending cleanly.
In light of this, and to protest the cancelling Deadwood and Carnivale, I cancelled my HBO subscription and got a Netflix subscription instead. I still like Rome and The Sopranos, but I can wait until they are out on dvd. So HBO, I have only one thing to say to you. Booooooooooooooooooooooo. Boo. Well, OK, that was two things.
Compared to $12 a month for HBO, Netflix is a bargain at $9.99. The only problem is that I don't like the DVD player's interface – I have to wait for the menus to load, skip the previews. Fast forward and back is not as smooth as in TIVO and there's no way to watch some other disk, and then come back to where I stopped watching another. I think I need something like Kaleidescape, except cheap and with storage for only a couple of DVDs at the time. Or maybe just a well-designed dvd player.
Sadly, Netflix does not have a particularly impressive inventory. Peerflix has a much better one, and is also a good way for me to get rid of the dvds that I don't need anymore and get some obscure stuff that I do need.
All's not too bad in TV Land overall though. I am frustrated with DirecTV TIVO not having networking and online scheduling and for that reason I am not upgrading to HD DirecTV TIVO. Tivo Series 3 does not work with DirecTV and is outrageously expensive. Well, at least there are some new shows that I like.
At the top of the pile is How It's Made. It's a Canadian show that mostly takes you inside factories and shows you amazing manufacturing and automation techniques. There's a number of similar shows around, but they are all suffering from the same problem: TV personalities. It's annoying to see idiotically grinning morons making bad jokes and drawing attention to themselves rather than to what the show is about.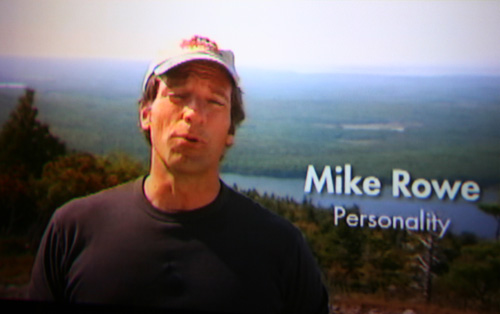 For instance, Dirty Jobs is not really about messy, smelly, funny and horrible jobs. It's about messy, smelly unfunny and horrible host, Mike Rowe. The last segment of Dave Attell of Insomniac with Dave Attell often had a segment similar to Dirty Jobs, but Attel, unlike Rowe is both charismatic and funny. Well, at least I think so.
Overall I feel that in a show about working a host is not very important. Take This Old House, for instance. It's really about Tommy, Norm, and the lesser subcontractors such as Richard and Roger. But you can take one host with another and then with another without the show suffering. I, for one, find the last host least annoying.
Anyway, what's different about How It's Made is that it does not have a host, only an invisible narrator. The show walks you through various industrial manufacturing processes accompanied by the Wakka Chikka Wakka Chikka-like music and almost hypnotic narration. It's pure engineering porn. It seems like youtube has pulled down most of How It's Made clips, but there's still one on google video.
Now I can't look at any mass-produced item without trying to picture the assembly line that created it. Some of the machines that I've seen are still haunting my mind–the ingenuity with which they are made are just amazing. I wish the show would interview the engineers who made the machines and spent more time on some of the more complicated ones.