Yesterday, while having tea with my wife, I mentioned the uneasy feeling that I was getting over not only how many science fiction writers that influenced the way I think have passed away already, but also of how many were dying lately. I started making a list of dead sci-fi writers (which I enhanced through Wikipedia while writing this post).
Jules Verne died in '05. Karel Capek died in '38. H. G. Wells died in '46. H. P. Lovecraft died of cancer in '47. Henry Kuttner went to shovel snow off of his driveway in Jersey and died of a heart attack in '58. Paul Linebarger died in 66. Hugo Gernsback died in 67. William Jenkins died in '75.Philip K. Dick stroked-out in '82. Kuttner's wife, C. L. Moore died in '87, of Alzheimer's. Cyril Kornbluth died the same year. Bob Heinlein died in '88. So did Clifford Simak. Isaac Asimov died in '92. As it turns out, of AIDS that he contracted from a blood transfusion. Douglas Adams was working out and had a heart attack in 01. Robert Sheckley went to visit Ukraine, fell ill and later died in a hospital in '05. Andre Norton died in '05.Stanislaw Lem died in '06, also of heart-related problems.
Well, at least Kurt Vonnegut is still alive – said my wife. Yeah, but he's pretty young, I said. Little did we know that he was already gone…
It seems that I received a package in the mail from him just recently, although it was already 9 years ago.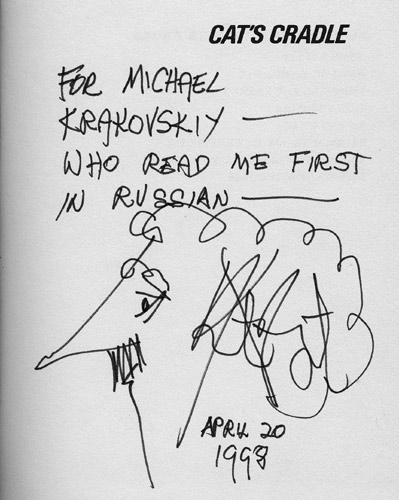 Theodore Sturgeon, the real Kilgore Trout died in '85.
The era's not over yet. As I went through Wikipedia's list of important sci-fi writers I was surprised to see so many classics born in the 20s and 30s to be still writing.
Also, three out of six Beatles are still with us.