I came across this postcard recently and could not pass it up even at $16. It shows Kings Highway from the elevated subway platform of the Brighton line. Unfortunately I could not get the same viewpoint because a huge ugly advertising billboard is blocking the view.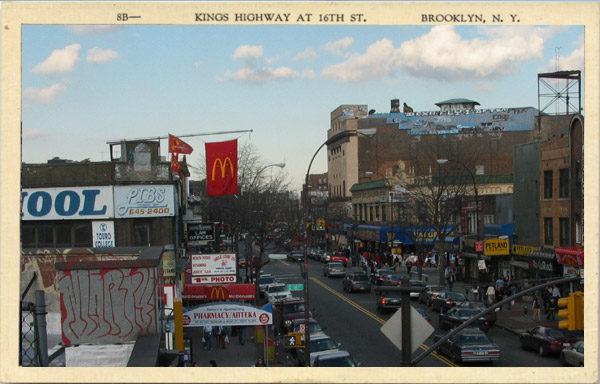 The picture clearly (well, maybe not so clearly) shows the Avalon Movie theater, which history you can learn at http://www.cinematreasures.org . Now that building houses a CVS pharmacy on the ground floor and Touro "College" on the upper, windowless floors.
The water tower, cool streetlights, Cafe Avalon, Modern Beauty Shop, Kings Highway Realty and Mortgage Corp, the soda fountain which name I can't make out, the cool cars — all gone. Parking is still a problem though.