Listen, people. Let me do a little follow up, and then I'll shut up about Starbucks and logos for a little while. Honest.
Firstly, earlier I wrote an article about the progression of the NASA logo – the Meatball, the Worm and the Vector.
Secondly, MTA logo is nicknamed the "Pacman" because it looks like the 25 year old video game character. Waka-waka-waka, watch out for the ghosts.

Thirdly, I wrote about the Roslyn Bank, the Blibbet and Starbucks logos too. All I can add to that are these two fine logos of the Microsoft products of the day gone by: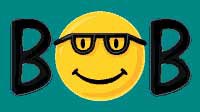 Funny enough this Microsoft product allows to bring Microsoft BOB back to life. Melinda Getes' legacy endures beyound Clippy!
Fourthly, Amazon is selling this:

Incredibly, they also have Women of Wal-Mart and Women of Enron.